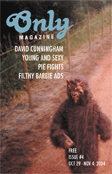 Before Only was Vancouver's most important online magazine, Only was Vancouver's least important print magazine.
Week four. David Look insists that he joined us last week. Your archivist begs to differ, however, records are thin on the ground. If you look at Lai's piece, what seems crazy is that his column of six years ago could be run this weekend, if you updated the club names and wanted to shoot yourself.
BIG PHOTO: Jeffro & Herman by Dan Siney
MUSIC: Ben Lai's big night out
MENTAL HEALTH: Popularity 101
FOOD: Organised bake off
Follow Only



Only is published by the Only Trust, a collective of artists, writers, and journalists. OnlyMagazine.net is the home of our endeavours - publications, events, political reviews, and pop culture coverage on everything Vancouver.
Staff Sites
»
Contact Only
»
Contribute
»
Advertise on Only
»
The Archive
Published with
Textpattern
/ hosted by
Everywhen
/ Design by
David Look
and
Darren Atwater
/ Special thanks to Leslie Smith, immaculate host.
Support Our Allies

Megaphone
Megaphone is a magazine sold on the streets of Vancouver by homeless and low-income vendors.

Music Waste
Music Waste is Vancouver's independent music, art, and comedy festival.

Victory Square Block Party
The Victory Square Block Party is the free end-of-summer concert held every Labour Day at Victory Square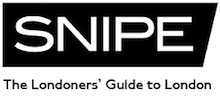 >
Snipe
Snipe is the London guide for Londoners. The one in England.