Bizzy Bone and Layzie Bone, Sons and Daughters, Re-up Gang & The Mae Shi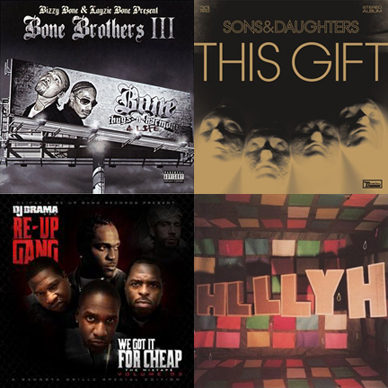 By MegJeph
Friday February 8, 2008
Bizzy Bone and Layzie Bone — Bone Brothers III
You just know an album is going to be good when the intro is a one minute recording of Bone Thugs~N~Harmony winning an award for "Favourite Act, Duo or Group in Rap and Hip Hop". Actual documented evidence of being the best is always more effective than just telling people you're the best. Of course, they could have just told us and we'd believe them. Don't you remember crying when Eazy-E's face was in the sky in "Tha Crossroads" video? And even though it kind of sucks that the best Bone Brother is absent here (you know we're talking about Krazy Bone), it's nice to hear their trademark really fast rapping from start to finish on this album.


Sons and Daughters — This Gift
Meg: A group formed backstage at an Arab Strap concert named after some Bob Dylan lyrics? Sounds kind of suspect if you ask me.
Jeph: Fair assessment. But you might have overlooked that these guys are from Glasgow. I'll give any band from Glasgow a fighting chance. Mind you, I would like to find out whether they support Rangers or Celtic. I'm not going to go giving a good review to a band that likes the Glasgow Rangers.
Meg: I just want to know if they'll have my back in an Orange March.
Jeph: I'm guessing not. These guys are Bob Dylan fans. Come to think of it, I'm not even going to review a Bob Dylan fan.
Meg: Fucking weedgies.


Re-up Gang — We Got it For Cheap Vol. 3
Not that we love name-dropping The Wire every single time we write for Only, or anything like that (See here, here and here), but we totally know what "re-up" means because of The Wire. But we're pretty sure if we listen close we'll learn some new slang on here, since pretty much every song seems to be about crack dealing. You'll definitely learn something about working on the corner if you listen to "Show You How to Hustle" followed by "20k" and "Dey Know Yayo". We're moving an extra bird a month since we started listening to this.


The Mae Shi — Hlllyh
Jeph: On the Wikipedia page for this band, they're described as "experimental punk".
Meg: I thought experimenting was supposed to be cool like making out with people that are the same gender as you. Pop punk is about the last thing I would want to experiment with.
Jeph: For sure. If I was coming up with a genre for these guys, I would call them "post-Treble Charger". The song "Kingdom Come" on here is over 11 minutes. Who the heck told these guys that they could make an 11 minute song?!
Meg: Probably some asshole from Treble Charger.