The Dead Ghosts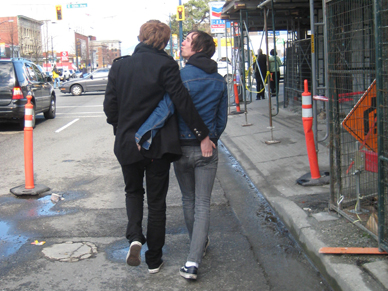 By JennyC
Wednesday April 2, 2008
There's something about dragging a group of young musician boys out of bed on a Sunday morning and forcing them to eat less-than-edible chicken strips while asking them random questions, which aren't much better than the food itself. Maybe it's the retardo haze of the cheap beer from the night before, or the fact that Clint is in the band, but my breakfast rendezvous with The Dead Ghosts left me giddy like those grade eight slumber parties where everyone makes friendship bracelets and then braids each other's hair.
ONLY: Are any of your songs true stories?
DREW: I don't know what any of our songs are even about so let's hear this…
BRYAN: I don't think anyone can hear what I'm saying.
CLINT: You write songs about cowboys and shit that happened in the 1800s.
MIKE: Brian writes all the music and we just read off the sheet music.
ONLY: What record best describes the band's personality?
DREW: The Cars "Who's Gonna Drive You Home?"
CLINT: The Chipmunks.
DREW: No, definitely The Cars.
ONLY: Who started the band?
MIKE: Drew and Brian.
ONLY: How did these other two [motion to Clint and Mike] get involved?
BRYAN: We were drunk.
DREW: Cause Mike's my brother and he lived at my house. And cause Clint's good at bass.
CLINT: And other stuff.
DREW: Like oral sex, that sort of stuff.
ONLY: Do you all have nicknames? What are they?
CLINT: Ask Levon (from Ladies Night).
DREW: My name is Big Cat and this is Little Turtle [points to Clint].
MIKE: My name is Mike.
BRYAN: [silence]
ONLY: What do The Dead Ghosts bring to the local scene?
DREW: Not much.
CLINT: Courage.
DREW: We bring a lot more than half the shitty bands in Vancouver!
ONLY: So was it the plan to sound like the Black Lips?
CLINT: Fuck I knew you were going to ask this one. Just because we're under them in popularity… that's fucking dumb… [insert thought provoking well defended blabity blah argument.]
BRYAN: It's like saying The Kinks sound like the Rolling Stones.
CLINT: That's the most uneducated thing to ask a band, especially at this time in garage rock. God.
[You'd think the guy who has his Black Lips band wristband mounted in a gold case at home, reminding him of the glory of filling in for Jared Swilley at the recent Vancouver BL show, would be thrilled with this comparison — obviously not. Moving along…]
ONLY: Is it better now that you're not in a band that wears matching outfits from another decade, Clint?
CLINT: Ya. Those kinds are dumb man.
OTHERS: [Laughter]
MIKE: Hey call Brian's phone.
Brian's phone starts ringing, blasting "You can't go on/Thinking nothing's wrong/ Who's gonna drive you home…"
DREW: It's our record
BRYAN: Best three dollars I ever spent!
MIKE: That's how much we made at our last show. [Laughs]
DREW: Why didn't I see any of it?
ONLY: So when's the next show?
BRYAN: We only find out a few days in advance usually.
CLINT: Somehow we just end up playing randomly [pause] we might just wait for Nobunny!
OTHERS: Ya, Nobunny!!
FYI: Nobunny plays in Vancouver on May 24th – it will be the best show of the year.
ONLY: What about Dead Ghosts Records?
DREW: We have one single out, "What To Do" on Milk-n-Herpes Records.
MIKE: And a tape.
BRYAN: A mix tape from Alabama.
ONLY: Why Alabama?
DREW: 'Cause we're huge down there.
BRYAN: It's a split tape with this really cool Alabama band called The Shining Path.
MIKE: And it has a hotdog on the case.
ONLY: What… I didn't know about this?
CLINT: We're full of secrets — we're dead for god's sake!
ONLY: What other secrets do you have?
DREW: Uh, I live in Surrey.
ONLY: Back to records…
CLINT: We are recording with Felix at Little Red Sound Studios on Cambie. He paid me five dollars to say that.
ONLY: So how much of that are you gonna pay me to write it?
MIKE: We're also recording our full length one day in May. We're going to have a BBQ, you can come but you have to wear a bikini. We're going to wear shorts.
DREW: The record's gonna be called Big Cat & Little Turtle.
ONLY: What about being stuck in elevators?
DREW: Oh man, Clint and I were trapped inside the elevator at our jam space for like an hour and a half last weekend after the Pub340 show!
MIKE: They had to call the fire department. [laughs]
CLINT: We lit some candles.
BRYAN: It got pretty psychedelic
CLINT: We had a shirts-off-party in the elevator and dripped wax all over our bodies.
DREW: Now we're completely hairless.
MIKE: I can't eat anymore.
DREW: Anyone want some chicken?
BRYAN: This is overly mediocre.
The Dead Ghosts may play randomly some place soon. And hopefully with Nobunny!