EXTRA! EXTRA!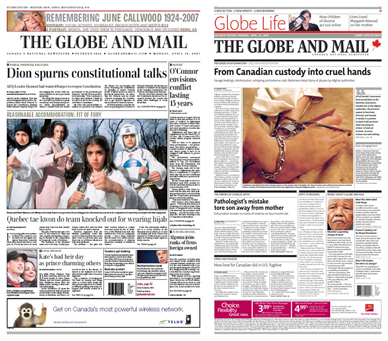 By Cameron Reed
Wednesday April 25, 2007
The Globe and Mail recently imagineered a massive redesigned of the their online and print edition so to boost their questionable relevance for a new generation. The best that the eggheads in the "reimagination room" could do was introduce a new font and a boring, boxy layout that "makes it look like a computer screen" as one Only contributor mentioned. It somewhat resembles a mock newspaper as well, you could easily imagine it spinning towards you in a cinematic montage with apocalyptic headlines.
EXTRA! EXTRA!


WOMAN

EATS

OWN

FACE

,

HAPPY

TO BE

BACK

WITH

FAMILY!
G&M is also excited about adding a new section called 'Globe Life', a lifestyle and consumer report featuring an "intelligent look" at "what you eat and drink" and "what goes into your home". Don't tell them that every other paper already has this kind of section, though they may not be as intelligent.