Contingent Press Coverage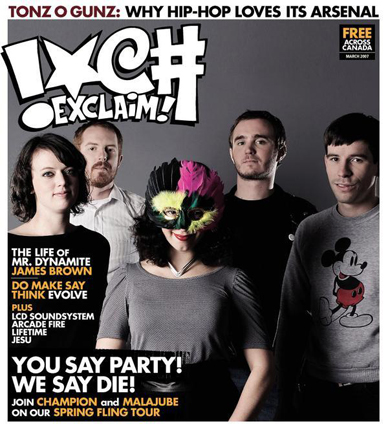 By Cameron Reed
Wednesday February 28, 2007
A couple sleeps from now, indie fans across Canada will wake up, wipe away the gunk from their eyes, scratch various places, hopefully shower, and make their way down to the nearest record store to joyfully acquire their copy of March's EXCLAIM magazine. Inside they will find the usual fence-sitting journalist-y reviews, quality culture critique, and everything in between. The main focus, of course, will be on this month's cover story. An exciting new band that Exclaim has come to tell the nation about.
Besides the odd American bands that make it on the cover, there seems to be some easily recognizable criteria of how to make it on the cover as a Canadian band:
1) Gain acclaim outside of Canada
2) Be from the east coast
This criteria is already flawed but there is no need to dispute it now. It's not completely fair to say that all the bands that Exclaim put on the cover are from the east coast. I'm sure the New Pornographers, the Organ, and Black/Pink Mountain(tops) have been on the cover. I'm sure of this because they are a few of the only Vancouver bands that have met at least one of the criteria. Until now.
I think everyone in Vancouver has long suspected that You Say Party! We Say Die! could potentially make a run for the coveted cover position, and holy shit we were right. The day is nigh! Our little Abbostfordian transplants are going to be the darlings of the Canadian indie scene for a month. Well sort of. But yes, its very exciting indeed.
Here are the issues: You Say Party! are, in all respects, deserving of the cover. They have worked incredibly hard and are beginning to see their labour-fruiting. Unfortunately, it's suspect that they are getting the cover the month that they will be playing a cross Canada, Exclaim-sponsored tour. So you wonder, is Exclaim giving the cover to a band that deserves the attention, or to a band that needs the attention so the tour they are sponsoring will get appropriate coverage? Well maybe this next piece of information will better serve to answer this question. YSP will be on the cover of Exclaim only in BC and Alberta while Chromeo and Malajube will be on the cover everywhere else.
What is the fucking point of that? As a musician and music lover, I am fucking aghast at this contingent press coverage. Only if you are playing their sponsored tour and only to be seen by your own Province +1?? It's already hard enough touring and trying to gain notoriety dealing with the west coast geography but YSP! did it. They succeeded and deserve a tad more than only to be seen by those that have already seen them. West coast bands look to do nothing more than to break out on the other side of the continent. This is especially true for YSP! who were recently banned from entering the U.S. So why the fuck would Exclaim think that this would be a reasonable thing to do? Well, they don't. They don't think, do they?
This is not to sully the great step that YSP have taken by any means. We are friends and are incredibly proud of them. We were the first press to ever cover them, for Christ sakes. This is simply the same lament that the cultural and political scenes on the west coast have had for years. When we do get a bone thrown at us, it's a small pittance from bigger bag.
But I suppose we are to take what we are given and be grateful for it. Aren't we?