The Great Little Norths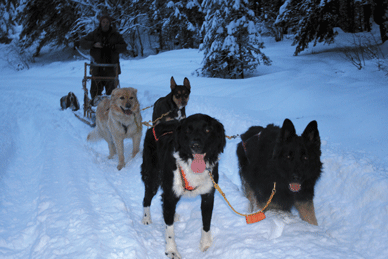 By Alan Hindle
Thursday February 15, 2007
Predictions from the king of Woofitania
I'm collecting stray dogs, building a sled out of discarded Ikea futon bed frames found in alleys and following my childhood dream: To discover my own country and establish myself there as absolute dictator-for-life. My loyal subjects will be patches of lichen and my cabinet will be the stray dogs I drag with me, but it will be mine, and while I invite readers to seek realms of their own, I warn fellow conquistadors to avoid Woofitania–on pain of biting. My Minister of Defense, Daisy, is a neo-con bitch that'll take your leg off as soon as look at you.
The fabled Northwest Passage that Sir Francis Drake dispatched a ship full of men to their frozen doom in search of is due to appear any day now. Thanks to world climate changes and the melting of icebergs, glaciers and continental ice masses, I predict Arctic Canada will be soon riddled with watery trade routes. George W. Bush pooh-poohs global warming, but the US was recently mulling over who really owned Canada's North in the event its natural resources suddenly became available. In fact, if recent revelations about Greenland are anything to go by, I predict the Great White North will be revealed as a collection of islands, like Hawaii but without the ukuleles. We'll rename it the Great Bitsy Norths.
The Intergovernmental Panel on Climate Change (IPCC) has concluded with 90% certainty (leaving a 10% gap that critics say proves there is no certainty at all and therefore business should continue as usual) that human activity is modifying the very patterns of nature across the planet. Except for a few criminally deceptive "scientists" pocketing brown paper envelopes from oil companies, global warming, and its potentially catastrophic changes to our way of life, is no longer up for debate.
There is, though, a whole new branch of critics who point out that the IPCC paper says little about melting glaciers. Until recently it has been the consensus of the scientific community there would be little melting of these ice cube mountains over the next 100 years.
In 1995 and 2002, Larsen ice shelves A and B, part of a huge tongue of ice protruding into the west Antarctic sea, collapsed. Last August the Ayles ice shelf on Canada's own Ellesmere Island, "calved" or sheared away, disturbing earthquake monitors 150 miles away. Such a thing was previously supposed to take months to happen. Instead it took less than an hour. Now there is a 25-27 square mile lump of ice waiting for spring to float leisurely down to Mexico.
Now Greenland is collapsing. Outdoorsy types are flocking there hoping to discover new islands hidden under the crumbling whiteness. Never mind the new phonebooks, having an island bearing your name on the next generation of maps–that's posterity! By the way, Greenland contains 8% of the world's fresh water, and if it should melt (impossible!) it would raise ocean levels by 23 feet, stopping cold the Gulf Stream.
Canada's next, you watch. While you're watching, I'm mushing. Order now and get your Official Only Magazine Intrepid Action Explorer Club Kit, including one flag2 suitable for planting in virgin soil, and a certificate of sovereign nationhood3 as part of the Only Commonwealth, paying us a mere 25% feudal tithe on anything valuable you find4.
Now that Environmental Apocalypse has been scientifically confirmed, let the mad rush to exploit what's left while there's still something to exploit begin! This time next year I will be King of Woofitania. Queen Daisy and I encourage you to visit and spend your tourism dollars.
This club is neither official nor legal and I'm not even sober right now.
Cafepress.com don't make flags and pennants, so we'll be printing them on thongs and you can supply your own damn flagpole.
Only Magazine accepts no responsibility for this offer, and if the

RCMP

turn up to question you about shooting at passing commercial, scientific or military vessels while jumping up and down, shouting "Goldurnit gerroffa ma land, dangummyuh!" we never heard of you. That goes double for angry Inuit and half-drowned polar bears you attract.
I mean it. Don't make me sick Daisy after you for arrears. Daisy will show you your rear, buddy.