Meat the fuckers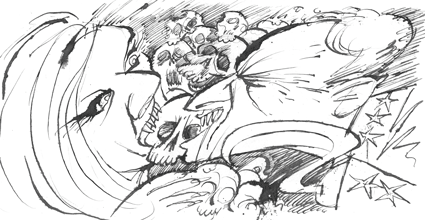 By Alan Hindle
Wednesday March 1, 2006
Without a tongue no one can see you in space General Titus Andronicus returns to Rome, victorious from the wars. Dragged behind him as prisoners of war are Tamorra, wife of the defeated and killed King Priam, and her whining sons. Titus' sons promptly sacrifice one of Tamorra's kids to the gods (Whoa! It was only whining. Never let the Andronicus kids baby-sit for you.) Naturally, this being Shakespeare, everybody falls immediately in love with everybody else, and it all ends happily ever after. Except Tamorra's a sneaky one, and plots one of the goriest, most controversial acts of revenge ever perpetrated in theatre. Tables are turned, but take it as read you'll never look a Scotch Pie in the face again.
At the beginning of February in Berlin, the Berliner Ensemble, the agitprop theatre theatre company set up by Bertolt Brecht to piss people off, pissed a whole bunch of people off. Halfway through their production of Titus Andronicus the audience stormed the stage screaming "Nazi theatre!" and "You're getting off on it!" as the slightly confused actors carried on raping and dismembering a young girl. Police arrived to break up the riot and a large lump of the audience left in disgust to write letters to newspapers and politicians that children should never be allowed to read.
Did the actors get off on it? Sure! Rape, betrayal, genocide, incest, forced amputation, cannibalism. Come on. Good clean fun.
Now it's our turn.
After holding a public vote to decide between this and The Merchant of Venice, (overwhelmingly, Titus won) Mad Duck Equity Coop Theatre are sharpening their blades for the first ever production of the play in Vancouver. Naturally I voted for Titus. I suggested they stage it as a clown play, turning the Wendigo potluck at the end into a cream pie fight.
It would be glorious: Cannibals in white face and red noses screaming gibberish and lingering vowels of rage as they hurl pinkish meringues while the first two rows of the audience duck and weave and tighten fearfully round their throats the protective lobster bibs freely provided. I doubt that's the way they'll go, however. Lobsters are expensive and Safri Gourmet Foods are providing the pies. You want to eat those afterwards, not wipe them off your back of your head.
Mad Duck have a killer cast, and have built a tidal wave of hype for themselves. I charge them with not choking. Except each other. I expect sweeping arcs of blood. When they bleed I want the Red Cross standing nervously, stage left, with buckets and funnels.
I want horrific scenes of heart crushing loss, devastating revenge, spiralling guilt that sucks the entire theatre into the quivering maw of Hell.
There is a shift occurring in the world's sensitivity levels. Not so many years ago experts declared we had supposedly numbed ourselves to shock tactics. Television, films, Howard Stern, and OJ Simpson had inured us against feeling the effects of watching violence/sex/immorality. George Bush has reminded us, however, that life can always be made worse and there is no bottom so long as folks like himself are left free to dig. The world has rediscovered indignation and moral righteousness; unfortunately coupled with the misunderstanding that intolerance and real violence are the solution to the problem. That cartoons and theatre should still be able to incite such passions is a measure of the power of art. That's good. Now we need a few extra doses of understanding, consideration, and the appreciation of art as merely a vehicle to explore the darker side of human nature and thereby avoid destroying ourselves. Let the actors destroy themselves for you.
If it looks like they might wimp out, though, I'm bringing my own pies to throw. Cherry. With the pits left in.
Titus Andronicus plays at the Jericho Arts Centre (1675 Discovery St.) until March 18. 2006