Suggestions for a Winter Holiday Mixtape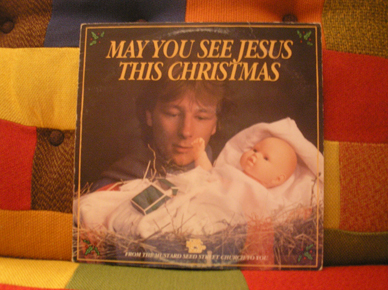 By MegJeph
Friday December 21, 2007
Some of you might have noticed that for our first Christmas as a married-person-reviewing couple, we have deviated from our standard reviewing format and have chosen to make a holiday mix-tape instead of reviewing four holiday albums. This is because the idea of listening to one entire Christmas album, let alone listening to three more and having to think and write about them, is excruciating.
"Rudolph the Red-Nosed Reindeer"
Burl Ives — Rudolph the Red-Nosed Reindeer
Meg: Just the other day, I was showing twenty eight year-olds how to make candy-cane mice and ornaments out of recycled Christmas cards and I totally pretended I didn't remember the words to this song. I swear to god, I didn't prompt these kids at all, they just broke into song and started singing it. They fucking LOVE Rudolph. In case you didn't know, that means this song has stood the test of time.
"I am a Street Person"
The Mustard Seed Street Church — May You See Jesus This Christmas
Jeph: This is from my favourite Christmas album of all time. I bought it at Value-Village solely because the picture on the record sleeve is so great. It's a photo of a street person, with a turtleneck sweater on, looking at a cheap doll in a cradle which is supposed to be the baby Jesus. And baby Jesus has a cigarette pack on him for some reason.
"Is It Because I'm Black?"
Syl Johnson — Is It Because I'm Black
Meg: Don't even get me started on how this isn't a Christmas song. Some of you might want to use Christmas as an excuse to forget about the oppression of this world, but not me. If you're not sure if this applies to you, you just have to ask yourself one question: Do you watch The Shield, or do you watch The Wire?
"Christmas Bop"
Marc Bolan & T.Rex — Work in Progress
Jeph: Yeah, it is true: This is not one of Marc's best songs and he knew it. He recorded this song just two years before he died and chose not to put it out. But if you know a better glam-rock Christmas song, then make your own mix-tape.
"Fat Daddy"
Fat Daddy — A John Waters Christmas
Meg: You would be lucky as hell to spend Christmas in Baltimore with John Waters, and you know it.
"White Christmas"
Boney M. — Christmas with Boney M.
Jeph: I had to add this, even though I've only heard part of this song. Just because I always walk by this album at Wal-Mart and wish that I had it. I chose this particular track because when white people sing this song, it sometimes sounds kind of racist, but if black people like the band Boney M. sing it, it's all fine.
Any Song by Leonard Nimoy
Meg: This one is pretty self-explanatory. You can pretty much listen to any song by Leonard Nimoy. I was trying to find the perfect Hanukkah song by him, but then I remembered that all of his songs are genius, and Hanukkah is the perfect excuse to listen to them all. And contrary to what a few people who work with me might think, I'm not just putting this on here 'cos of that guy that thought I was racist just because I didn't know all about lighting a menorah. In fact, I happen to LOVE Hanukkah songs. "Dreidle, Dreidle, Dreidle" slays "Jingle Bells" every time.
"I Have A Little Dreidle"
Meg: See above.
"Carol of the Bells"
Rockapella — Home Alone (Soundtrack)
Jeph: This is the best Christmas song and Home Alone used it best. I usually don't like people that have a favourite version of this song, but when I saw on IMDb that this version was by Rockapella, it's fair to say that I was impressed.