Killer Deadly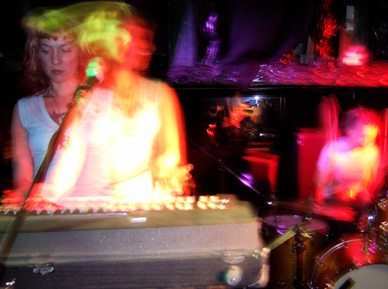 By Sarah Cordingley
Friday September 21, 2007
YOU

'VE

GOT

RINGWORM
Static Static
played last night at the
Pub 340
with
Vapid
and
Petroleum Byproducts
. Static Static are from LA and play hyperfuzzed new wave punk. Think
Jesus and Mary Chain
in a train car full of sheet metal and marbles. This was probably the first time I've seen someone in a punk band rocking
tights-as-pants
. Wish I could say the same about the resulting cameltoe.
Vapid played last and managed to almost remember some of their songs. I missed the Byproducts, but they looked as fancy as ever. Check them out at Shindig on October 2.
Abernethy brings his Magnetic Fields-minus-the-humour pop to Hoko's tonight with Attics and Cellars and Roger Dean Young.
Also tonight: Canaries play the 340 with Go Ghetto Tiger and Interior Design. The Canaries are playing at Shindig too, on September 25.
And after Peter Bjorn and John play a giant car commercial at the Commodore, they'll have a DJ set at Richard's. It's the offical after party at Half Alive, of course. I kind of wonder what sort of records they'll play. But I don't wonder it enough to go there.
On Saturday there's a metal show at the Astoria with Jaws, Batoche, Opera Strike and Castle Grey Skull. Man, have they ever turned that shit around. That place went from smelling like vomit, piss, garbage, poo, the Cobalt, bad breath and everything that stinks all upchucked together into the carpet. Now it's lemony fresh! The tables look so clean that I wanted to lick them. I talked to the nice lady doing the booking and she said that they're really trying to appeal to the young people in Strathcona, so she's booking "lots of that funk-punk stuff that they're into."
LA noise pop duo No Age play at Pat's on Saturday with Shearing Pinx and our favourite half-naked spazz punks from just across the border, Midwife.
Sub Poppers the Handsome Furs also play on Saturday at Richard's. The Furs' new album reminds me a bit of when Thom Yorke and PJ Harvey were dating or whatever and they did those really heartfelt duets. But instead of passionate singing, it's some dude yodelling.
And Kellarissa plays sweet and sour pop at Blim that night with A Relative Distance and Katie GoGo.
Paolo Nutini plays at the Commodore on Monday. Who does that guy think he is? Some kind of sex symbol Van Morrison? I can see by the look on your face that you've got ring worm. It's a very common disease.