Time Travel: Vancouver 1980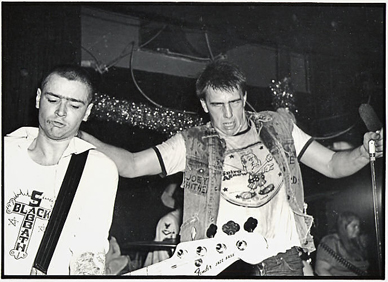 By Sean Condon
Tuesday April 15, 2008
Long before there were leaky condos, tiny dogs and "Yaletown", the Vancouver of 1980 was a balls out working class city with one of best hardcore punk rock scenes in the world.
Just 18 28 years ago, aside from the rich fucks in Kerrisdale, Vancouver was both affordable and eccentric. With the hippies and their wonderful weed magic still mingling with the fishermen and loggers, neighbourhoods like the West End and Kitsilano had lots of cheap homes, the Dowtown Eastside didn't have any crack, and East Van was like a scene from The Outsiders.
This odd combination made Vancouver a really friendly and accessible city. It was both political and unpretentious. You know how everyone in Vancouver now acts like a bunch of dicks who won't invite you to their party until they've known you for two years? Well, the old Vancouver was like Newfoundland, but on weed.
It's hard to imagine that a city now known for its bloated real estate, yuppie cokeheads and inability to buy a beer, gave birth to bands like D.O.A. and the Subhumans and made Dave "Tiger" Williams a hockey star. If the Vancouver of 1980 met the Vancouver of 2008, it would give it a curbie. Not only would I go back to that time, I would take the rest of this city with me.