Huster White/Business Lady - Putting Out A Record 7"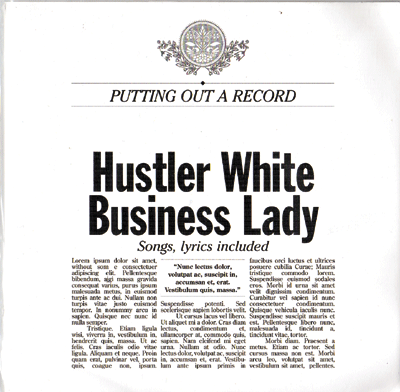 By Sarah Cordingley
Thursday September 1, 2005
Hello Asshole
This is the kind of autistic noise record that I'd play for that kid in elementary school band class that always kept her coat on while puffing, red-faced on some embarrassing wind instrument. Portland's Hustler White and San Diego's Business Lady both have a dark but catchy sound with tons of awkward character. The A and B-sides combined can't run more than 4 minutes, but the lo-fi tunes have enough depth for a couple of consecutive listens, so don't feel ripped off. Though I've never witnessed Business Lady live, I can tell you that Hustler white is quite a spectacle. The lovely synth, attentive guitar, and unstoppable disco drums set the stage for two beautifully strange singers who manage to sing completely different songs simultaneously. If you think you can tell which is the girl's voice and which is the boy's, you're probably wrong.