FASTWURMS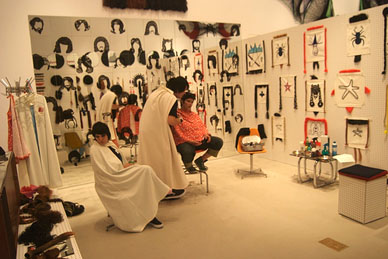 By lili
Friday January 25, 2008
BLACK

ARTS

,

WHITE

MAGIC

.

I walked into the Contemporary Art Gallery on Thursday morning to an installation of epic proportions. "[email protected]@WITCH", the new exhibition by FASTWURMS which opened last night at the CAG, is a visual orgy of colour, texture and symbolism. With heavy rock music blaring, I was absorbed by multiple rooms full of bright pentagrams, g-string spider webs, drug references and occult imagery; I was in awe and in love immediately. I suppose it's good to be a little more cerebral, but if you consider that FASTWURMS' work is thick with spells, charms, magic and good luck, then maybe it isn't too absurd to believe their work had me entranced.

Originally from Toronto, FASTWURMS is a collective of artists who are also Witches. In their manifesto (it is pretty cool that they wrote one) they declared that they are Witches "who operate under a unified creed," which I think is essentially a clause stating their benevolent nature. They do cast spells and practice magic, but not in the evil way Christian propaganda likes to assert. In fact, FASTWURMS must be casting a lot of good magic because it seems right wing groups haven't paid any attention to their public declaration of witchcraft. I suppose this could be a product of where they practice (i.e. not the deep south/bible belt where they burn Harry Potter books), or simply because the religious nuts don't pay attention to contemporary art exhibitions. Whatever the reason is, everyone should be pretty excited because this is the first time FASTWURMS is exhibiting in Vancouver and people need to experience it.

As a group, FASTWURMS was has been showing since 1979 and was originated by Kim Kozzi and Dai Skuse. "DONKEY@[email protected]" is a sort of retrospective of seven of their previous major exhibitions and performances, but re-mixed. For this they are drawing upon ideas of postproduction as a part of the art making experience, as thought of by Nicolas Bourriaud. They have separated the CAG into a number of different areas, each transformed into a version of previous shows "Swag & Shag" (1995), "Blood + Swash" (2002), "Denim Pox" (2002), "Pirate Head" (2004) "Gusset Nation" (2004) and "Blood Clock" (2005). One room is also dedicated to the re-creation of the installation "Unisex: House of Bangs" (1999), which originally occurred at Zsa Zsa, a small storefront gallery on Toronto's busy Queen Street West owned by the witches' friend and co-creator Andrew Harwood .

I met Andrew when he came into the CAG with a bag full of cheap, dollar store wigs. "I love these!" he exclaimed with a flamboyant twang, showing me the contents of his bag of tricks. True to FASTWURMS' love of incorporating cheap, dollar store materials and flea market finds, the wigs are to be included in the re-staged performance of Unisex: House of Bangs, where visitors can get their hair cut by the Witches. Because hair is used in spells, to get your hair cut by a Witch is to trust them, so when Andrew asked "Are you going to let me cut your hair tonight?" I immediately said "yes". How could I not trust this disarmingly warm man?

Even through symbols of the dark arts, I'd have to say this warmth and fun are prominent in the feeling of this show. There is a good dose of humour mixed with elements of high and low brow art culture. In an interview by Jennifer Fischer and Jim Drobnick, Dai Skuse explained that, "In our case, if you judge our installation as just a composite of amateur craft aesthetic elements, it could still be considered a high level of accomplishment as a contemporary art installation, in the same league as Thomas Hirschhorn." Basically what she's saying is if you miss this, you may be missing history. What could possibly happen when string art is used to create epically sized bats while intricate drawings of donkeys, cats and other symbols of the occult are repeatedly done on denim? This blend of craft culture meets rock 'n roll is so contemporary it hurts. And to think FASTWURMS has been showing for so long, it's about time Vancouver hosted them.