Nick Cave And The Bad Seeds, Jonathan Richman, The Breeders and Tapes 'n Tapes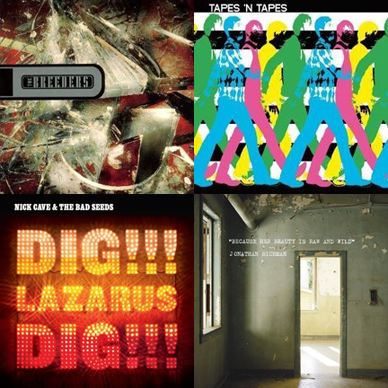 By MegJeph
Friday April 4, 2008
Nick Cave And The Bad Seeds — Dig Lazarus Dig
Jeph: I'm too much of a Nick Cave geek to review this. The fact that I own a CD of Nick Cave doing readings from his novel makes me think I might be biased. The fact that I have a book of Nick Cave's lyrics (published by Henry Rollins!) makes me think that I shouldn't necessarily be trusted when I say that this album is great.
Meg: Yeah, you're right. You are completely incapable of reviewing this album. As usual, our many readers will have to completely disregard anything you have to say and only listen to me. So yeah, this album is great.

Jonathan Richman — Because Her Beauty is Raw and Wild
We can still remember almost 10 years ago, when we saw Jonathan Richman live and our friend Travis asked us what our "favourite era of Jonathan Richman" was. This girl Gina said that her favourite era was the "Greatest Hits" era. Now that we think about it, she had a pretty good point. One thing's for sure, his greatest era is not his Spanish era. Sometimes our fingers get tired from skipping past Spanish Jonathan Richman songs on our iPods. Only one Spanish song on this album, so we'd definitely recommend the rest of the album.
The Breeders — Mountain Battles
Jeph: If the music previews section in Vancouver's free 24 Hours "paper" is any indication of what's on the mind of music journalists everywhere (as I'm sure it always is), then when reviewers listen to this album they will think of it in terms of The Pixies' failure to put out a new album. Not me. I hate Frank Black. Kim Deal is the only good part of The Pixies and she's at her best in The Breeders. And this album is classic Breeders. Not as good as Pod, but still really good.
Meg: You're right. 24 Hours always portrays an accurate reflection of what music journalists are thinking. Always. And even though this is not my favourite Breeders album, there are some songs on here that I think I like as much as any of my favourite Breeders songs.
Jeph: Wow. Two reviews in one week where you tell me I'm right and then paraphrase me. Still, can't complain. You know I love when people agree with me.
Meg: I can't help it. I'm really sleepy.
Tapes 'n Tapes — Walk It Off
We both had a tough time listening to this. It sounds like music and that's all we can really say about it. As far as we can tell, Tapes 'n Tapes is the name of a literal song-writing machine. And a boring song-writing machine at that. A boring song-writing machine that writes songs about George Michael.