What Does Jesus Get?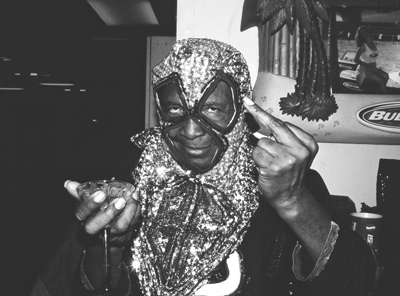 By only
Thursday December 1, 2005
Blowfly, Surrey, and Other Stuff
Okay, okay. Time to shine your teeth and floss your toes. Get the girl, grab the chicken and run. It's officially December, so that mean Jesus is just waking up from his yearlong hibernation and preparing to hit the mall with a vengeance. Get your shop on big guy. What's the Christmas gift of choice this year? Xbox 360? iPods? Pokemon? Dreidles? A real dad? Me, all I want is a good, cheap chicken wing night. I'm talking 10-cent hot wings like how we do out east. Where's it at, what it do? If you got a spot hit me [email protected] Also I want a bag of gold too.
So what's happening this month besides secret Santa's and Kwanzaa jokes? Well, the year of tons of rap shows is still going strong, with 50 Cent and G-Unit at little ol'Pacific Coliseum on the 3rd. Can someone please buy this 50 guy a shirt, cause his whole never-wearing-shirts in photos look is sorta gay. I hope MOP and Mobb Deep are performing as part of the G-Unit, cause they're actually thorough. Also I hope that 50 Cent is really Ol'Dirty Bastard and I hope that Sade has a crush on me. On a less grown and sexy tip there's always this guy —
"With Satan's evil gun, they have pulled the trigger. But the bullets couldn't touch me because I am the world's baddest nigger. So you unlucky 13, go out and get some pussy that's clean. Bring it back and ride the booty bus, just make sure it ain't nasty and won't betray you like Judas. Because as a great man once said: Herpes?! Motherfuckin Herpes?! I resign!"
Yep, that's Blowfly, he's the original dirty rapper with a filthy mouth and he's bringing it here on Monday, December 12th when he plays at the Lamplighter. Anyone wanna see me climb that tree for a quarter? That's what the Gastown panhandler's gonna say to you that night. Also check for the same bum saying the same thing, but a week earlier (December 5th) at the Roc Raida skratch-skratch-skratch show also at the Lamp. Make it funky now.
If you're in Surrey you might wanna check on a couple of things. First, make sure you're not lost. Why are you in Surrey? Have you been abducted? Are you in a stolen car? If you are, then maybe stop by the new Ephin Apparel store in Fleetwood at 162nd & 85th just off Fraser Hwy. Cop yourself a dope Zip-Hoodie while you there and even grab Wundrkut's new mix CD, Corn Beep & Ah!!!, just cause it's dope, ya heard.
There's been a bunch of rap video shoots in town lately, and I'm in all of em. Check me and Moves profiling in videos by Josh Martinez (Casablanca theme in a Tiki Lounge), mcenroe & Birdapres (schoolyard sound clash theme), and a Pass Da Mic spot with Caspian (some Arabs and an expensive Cadillac theme). I'm a star in the hood and I've heard of England. I listen to way to much ignorant rap these days (Black Rob anyone?). Be easy.