Beat Kids: Yo, I Tell You What I Want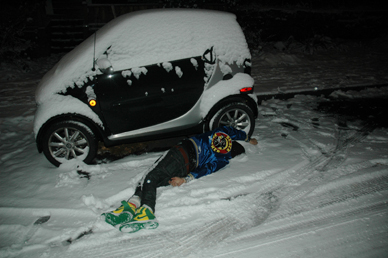 By chloe
Tuesday December 4, 2007
First off I just want to say fuck Avril. I mean, really. I woke up so early to go all the way to Best Buy for your tickets, then, like, you made me wait in the rain for two fucking hours just for you to BUTCHER "Complicated" at Swangard. Burnaby is cool and all, but I had to keep chuggin' Fireball to keep warm, and blowing smoke in the six-year-old faces… I don't think I can be seen there for a while. Luckily the Spice Girls made up for it on Sunday night. Brought back a lot of gum sticker memories from my "youth".
Yeah, that stuff didn't happen, but my week sounds about that boring anyways. Thursday night Team Canada, and the the EH!Team… graced us with a performance at the Modern. The Modern is a new club at 7 Alexander St. If you like shiny black interiors, multiple levels, light up dance floors, metal detectors, seeing up girls skirts, Metrotown, Burnaby and Surrey, you'll love this place. The music they played really made me miss Half Alive (read: not). I'm almost sure most of the people were on the five-page-long guest-list, and those who paid only paid because some girl they wanted to bang was on the guest-list. Tried to catch the end of the Clips at Blastramp, but dropped the ball on that one. Sorry kids.
On Friday, No Gold, Colorbook, International Falls and Basketball packed Pat's. I have this horrible habit of missing the bands I really want to see, and this time it was Basketball and International Falls' turn. Boohoo :( . But No Gold were good anyways, so fun times. After, I headed to the Timebomb (some clothing distribution company) Christmas party at some weird place across the street from the Anza, where I attempted to sneak five people past the guest-list. Surprisingly, this worked well. The Same DJs from the night before at the Modern were randomly playing. They did a mash-up of every song from 50s to late 70s imaginable, which sounds amazing except each song only got played for thirty seconds and it was hard to dance to. It was pretty good till the cops busted the party while I was having a smoke, and they didn't even play "Under My Thumb".
Tonight is the end of Shindig. Petroleum By-Products, do me proud! Watch out for crazy sex swing orgies afterwards at Friendship. They can happen. On Wednesday, Shearing Pinx and Mutators leave for their big West Coast tour. Have fun, and come back soon! Ric Rac, Spectres, Twin Crystals and Modern Creatures are playing Pub 340 Thursday. Hollywood Holt and Million$ Mano& hit Blastramp as well. *The Wind Whistles, Small Fame, Greenbelt Collective, Language Arts, Steve Nelson and Fraser are all at the Wise Hall on Friday, and ShoutOutOut play Richard's too… if you care. On Saturday, The Whiskey Rebels came all the way from Sacramento to play the Library (punk house, Clark and 12th), with Vanguard and Circles at 7pm on Saturday, and Apostle of Hustle play at the Plaza. It's been a few years, but it might be worth some memories.