De La Soul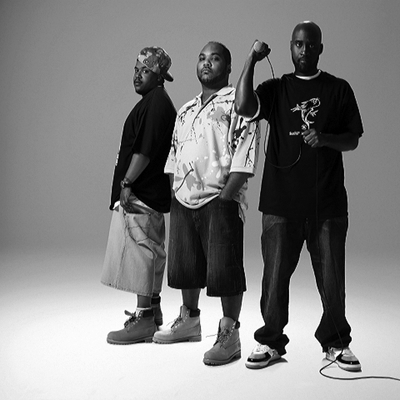 By alex
Friday November 12, 2004
De La Soul are boring
De La Soul is a great group, and they've dropped some classic albums, and white college kids love them, and they got a new album out, and when I'm hung-over talking to Posdnuos on the phone, and he's in Colorado Springs in some hotel being tired–the result is this boring interview. He mainly just wanted to promote the new album, and get me to tell you that it's good, and that he's proud of it, and other typical answers. Basically he seemed like he just wanted to get done with this random phone interview. I bet he does, like, ten of them a day. Oh well, this time we lose.
ONLY: What's up Pos. Yo—do you know the name of the third girl in Destiny's Child?
Posdnous: Excuse me?
ONLY: The third girl, the other girl–the one who's not Beyonce or Kelly Rowland.
P: Nah.
ONLY: Me neither. Well, have you ever met Beyonce?
P: No, I haven't. We've just got a partnership deal—we have our AOI records label that's being distributed through SURG/Sanctuary which is Mathew Knowles [Beyonce's pop's] label. That's it.
ONLY: Do you like Wu-Tang?
P: I'm a big fan. They're talented. They got a lot to offer.
ONLY: What's the deal with Chi Ali?
P: What? Well, he shot and killed someone and went to jail.
ONLY: Did you ever suspect that he was a killer back in the day?
P: To be honest, I barely knew him. He was in Native Tongues and I seen him around, but he was basically Dre's (from Black Sheep) boy.
ONLY: Do you like Crunk music?
P: I like all types of music. I'm originally from Georgia and I like some of that stuff. L'il Jon and the Ying Yang's had some catchy songs, some different stuff. I really like David Banner the most though.
ONLY: You got one of the only albums out right now that doesn't have any L'il Jon or Kanye West on it. Are you gonna fix that oversight?
B: Look—good music is good music. I mean, we got no plans like that right now, but we talked to Yayo before…
ONLY: Who?
P: What?
ONLY: You said Yayo?
P: Oh yeah, Kanye—Ye—Yayo. He originally submitted the "Get By" beat to us and we just passed on it, and then Kweli took it and made a huge hit. Ya know. All music is good.
ONLY: Is there any aspect about you that we don't already know about? You got any abnormalities–maybe you only got three toes on your fingers or some shit?
P: Nah. I think throughout my music I reveal things about my life. Pretty much what I reveal is what it is.
ONLY: You got anything ya really wanna talk about?
P: Well yeah, lets talk about my album. Grind Date. It's in stores now. It's 12 cuts and we got great people on it, like your boy Ghostface, Carl Thomas, MF Doom. It's a great album. It's worth getting and buying and investing in. Mainly we make good music for people and it's good and it's in the store. We got a Nike shoe coming out next year, a tribute to the Dunk, which originally was a basketball shoe. We moving on and trying different things. We signed a gentleman named Butter Verses to our AOI Records. I might do a solo album. We just trying to do different things. We touring.
ONLY: Hockey got cancelled this year –are you mad? Do you like Hockey?
P: No. I don't really like sports.
ONLY: How about jokes –you know any good jokes?
P: Jokes? Not at all man. None.
De La Soul's new album The Grind Date is actually good. They play here Nov. 4th at the Commodore Ballroom. I need to buy some Aspirin or Tylenol. I never know the difference between all these painkiller's though. Check for the Nike De La Dunk in early 2005.