Celebration, Band of Horses, Shocking Pinks & Chamillionaire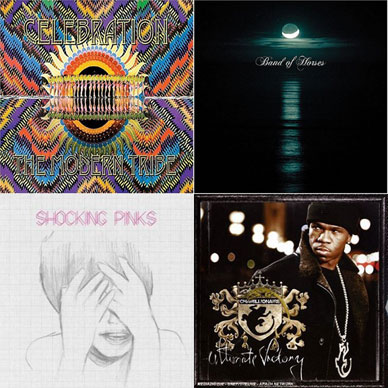 By Mosanda
Friday October 5, 2007
Celebration — The Modern Tribe
Amanda: It's all weird drums. Sounds like a lot of other stuff, but I just don't know what the original bands are. I don't want this band to get credit if some other band was the groundbreaker.
Mosang: Hey, "Evergreen"! That's our alma mater.
A: Oh yeah, Evergreen, the land of our love. Man, I love that forest. The ferns are so big, the trees are so tall. The ocean's so pretty, and of course the geoducks. People probably don't know what geoducks are.
M: Hon, this song isn't about our rad Olympia school. It is good though.
A: I like the first two songs.
M: The beginning of "Our Hearts Don't Change" sounds like the score of an old-time Hollywood romance.
A: Like the drunken rendition of an old-time Hollywood romance. Everyone just sounds drunk to me now. Wait, have I been drinking?
M: Yes. Just a bit though.


Band of Horses — Cease to Begin
Amanda: I like his voice, it's so clear.
Mosang: Me too. You can actually hear it; it's not all fuzzed out and screamy. I like straightforward rock 'n roll songs.
A: "Marry Song" really channels Jerry Garcia. The singer has the little twang to his voice. It's very soothing, like he's serenading you to sleep.
M: "No One's Gonna Love You" is a total power ballad. Just throw in some more feedback and a wailing guitar solo and you'd have Saigon Kick. It's awesome.
A: I like how he hits the high notes.
M: I still don't get why they have a song called "Detlef Schrempf." They sing, "I can't look at you any other way…" As in, in any other uniform but the Sonics? He's retired, man, get over it.
A: Band of Horses is definitely my favorite album of the week. In fact, it may be the only one I want to listen to again. Maybe this column should be called True Confessions.


Shocking Pinks — Shocking Pinks
Mosang: Am I supposed to like this shit? All the apathetic mumbling vocals, fuzzy instruments, and random drumming? And what's with the cowbell?
Amanda: Yeah, on "SmokeScreen" you're suddenly in voodoo land after mostly fuzzy relaxation. There's something funky with the sound quality.
M: I think that's intentional.
A: It's like the band and the singer are following two different scripts. I like that song "Victims" though. It's kind of soothing and it's got nice rhythm.
M: I do like "Girl on the Northern Line." It sort of reminds me of Bob Dylan's "Girl from the North Country." I think that's just because of the title.
A: Something about the singer's pasty-faced, slack-jawed expression reminds me of New Order. It's like, look how little emotion I have.
M: That's how I feel about them too. They're stumbling around all hungover and don't give a shit how it sounds. I bet they actually are trying really hard for this sound though.


Chamillionaire — Ultimate Victory
Mosang: I like the first two songs, but I'm pretty ambivalent about all the rest.
Amanda: I'm not ambivalent. I'm taking a stand against this shit. Why does he condone treating women like shit? "Pimp Mode" is really bad.
M: I know. What are these lines anyway, "I control her and remote her, now she's doing just what I told her."
A: This verse makes me hate him forever.
M: "The Morning News" has some socio-political commentary, and I like "The Hip Hop Police" reference to Snoop's 'Murder was the case.'
A: It sounds like bad 50 Cent, although the "Evening News" video is decent. Well, more than decent really. Definitely worth checking out. I guess I won't write him off forever.
M: "Industry Groupie" totally steals the "Final Countdown!" riff. It's sort of a rap companion to Built to Spill's 'You Were Right' with all of its rapper quotes. "Redman said Believe that! T.I.P. was like Shorty! Then Young Jeezy said That's right! Lil' Jon said Okay." All to diss groupies.