Contorted Advertising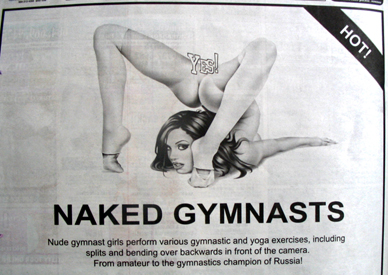 By only
Tuesday March 20, 2007
We read the Georgia Straight every week, every article, from cover to cover, so it takes us almost a week to get to the escort ads in the back. Understandably, when we stumbled upon this half page ad yesterday, we were impressed.
This woman is obviously very talented, even if she is just a pencil drawing. She's not only folding herself backwards, but she has trained herself to speak out of her vagina and she does it all EN POINTE! Those are ballet toes, in case you didn't notice. Do you have any idea how hard it is to shout "Yes!" out of your genitals while curling your feet like that? Very hard. It took us years. We thought we'd never graduate from that Tibetan monastery, in the Himalayou Mountains, next to the more famous Himalayas.
When asked about the possible hyper-sexualising and objectifying of young girls in this ad, someone at the Georgia Straight replied that the publisher himself okayed it, and then pointed out that porn is everywhere anyways, and kids don't have to look far to find it. For instance, a child could find it all over the back pages of the Straight, where this half-page ad for triple jointed ventriloquists was nestled amongst escort services and 1-900 sexlines.
It's interesting, though, that a paper founded by hippies now makes $5000+ per page of escort ads every week, yet still manages to find space to provide for the arts like this. We're also pretty happy that someone has finally created our ideal woman: legs, ass, and vag mounted atop a pretty head. Thanks! We applaud you, Georgia Straight. Bravo! We shout from our ass while furiously clapping our balls.