SXSW: Jody's Thursday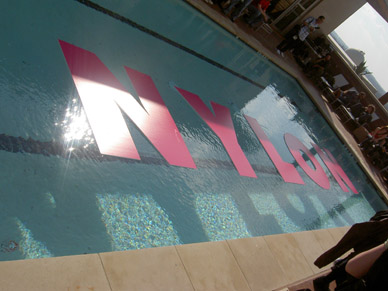 By JodyG
Friday March 14, 2008
Today is a big day. After only a couple hours of sleep, I'm back up, showered and off to the Lou Reed Keynote at The Convention Center. It is by far the most influential part of the festival. The setup is very much actor's studio-ish, with someone asking questions living room couch style. The guy leading the interview is Wil Hallner, a record producer who's known Lou for years. It definitely helps with the flow – Wil seems to have a sense on when he's done with a thought and when he should pause before asking another question. He stressed the importance of owning your publishing and spoke about technology, both in the medium sense and producing sense. He mentioned having recently played around with a Mini Moog Voyager and that once he figured out how to turn the darn thing on (so many buttons!) what he didn't know about the machine he figured out by instinct. He's always relied on instinct. That sure hit home for me. Oh yeah, and the fact that when asked what he was listening to he said Holy Fuck. Fuck yeah!
After the speech, I meet up with my crew, Team Texas. Apparently they've been lost for most of the morning. We can not function with a third missing. We head to The Ceder Door where there are some young ones on stage from New Jersey called Steel Train. They are good. Their taste in gear is mint , the bass player having the same bass as Louise, a 1967 Gibson EB2. After that at The Taphouse, we check out Jason Collette. Greg plays keys for him and I definitely need to get my key fix. There's a dude on stage strumming an acoustic guitar. He's in his late forties and I assume he's the guitar tech. After a few songs in, I realize he's not, just in time for him to reem out some dude on his cell phone: "I got up damn early this morning to come and play for you!" Bitterness gets you nowhere. Random guy on cell phone could have been A&R for some record label hooking buddy up with a deal, and now, no dice. Jason sounds lovely, and as I'm standing at the side of the stage geeking out over Greg's setup, I have a few people come up and ask if I know who's playing.
Next stop: Nylon pool party. Coral has friends in The Virgins, and god are they good. We were definitely the ones having the most fun at the party; everyone else was just standing around trying hard to look cool. And there was a big sign beside the pool that said 'No Swimming'. Lame-o. It was cool to see the Young Lords show up to catch The Virgins set. Turns out they're buddies from New York. The party was held on the top floor of a parkage overlooking the city, and on our way down we hear a little of what could only be Black Mountain. We catch their set, with them playing to about 3 dozen people.
We figure food is in order now, it being about 7 o'clock. I remember seeing that MGMT was playing at a decent looking Tex-Mex restaurant/lounge so we decide to hit the place up for dinner and camp out 'til when they play. This turned out to be an excellent move. The girl before MGMT was killer: Florence and The Machine from London. She comes over after her set, says she likes my glasses and sits down at our table. MGMT were awesome. I admit to not knowing too much about them as a band, I hadn't even heard a song before hand, but the entire set was solid. I couldn't even pick out what song was considered their single, everything was strong.
At this point, I know Shout Out Out Out Out is just hitting the stage at Beauty Bar. As we're heading there I get a text from my cousin saying that they've wrapped up their show in San Antonio and are on the road to Austin. He drums in Comeback Kid and NOFX is headlining a Victory Records party, CBK's label. The Beauty Bar is packed. It's after midnight and Lyle Bell is wasted on stage. To top it off, his keyboard stand is peacing out, he's in no shape to fix it and no one else can seem to get it to stay up. Cadence Weapon is in the crowd – he's up there in a flash, helping his boys out. My cuz shows up to say hi, then takes off next door, apparently his party is just one venue over.
Word spreads via texts that there's an after-party at some house on Willow street. We roll up and the back yard is just a sea of people. The house is completely plucked from She's All That, complete with a guest house, a pool house, and yes, a very gnarly looking pool. Diplomat is deejaying, Cool Kids sit in for a set along with Boyz Noise and Cadence Weapon. The party gives me a chance to catch up with Nik7 and some of the other Shout Out boys. Someone busts a water pipe in the garden and after getting a little wet (and it being 5 in the morning) we decide to call it a night.