SXSW: Jody's Wednesday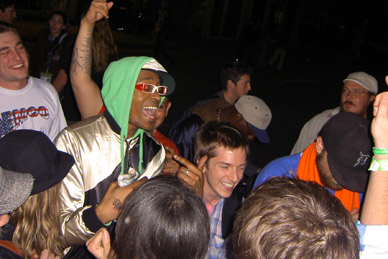 By JodyG
Friday March 14, 2008
All I brought with me to Austin for the week was my purse. It's big purse, mind you, but all the same, I planned to be mobile and low-maintenance. I did manage to fit my flat-iron in it though. A girl's gotta have priorities.
The plan for today, other then picking up our badges, is no plan. We hear about a Canadian BBQ and figure it's a good idea to hit it up, if only for the drink tickets and free eats. I've been a vegi-quriam since June but figure when in Rome… Plus I did live in Alberta for 7 years and can still appreciate a decent steak. There's some rad people playing the event, The Pack A.D. and Dragonette being a few. I've had a girl crush on Martina Sorbara since her tampon-music folk days and try not to pet her while she's on stage. I start running into some familiar faces and meet some familiar names, including the infamous Ice Cream Man. I can respect a man that gives away free ice cream. I'm sure the ladies love him.
After the BBQ we head to Pangaea for The Black Angels and The Ravonettes. Quick and dirty sets by both bands. I'm totally digging the sound quality of the venues so far, all 'ping-y' where you want ping, not to mention all the simple and solid female drummers. Just goes to show, you don't have to be crazy busy to transmit a pulsating pull. We spy Lou Reed hanging out back behind the line; I'm totally stoked to catch his keynote speech/interview tomorrow.
We catch a couple of songs of a band called The Upsidedown a bit down the street. I remember them from a Dandy Warhols show I saw in the summer. By this point, we are in dire need of food if we want to continue, so we start back to 6th and randomly choose a restaurant. Bring on the Tex-Mex! I haven't really been able to get a hold of anyone down here, trying to stay off my phone as much as possible and still choked with Telus since my text message problem did not correct itself. Austin proves to have that small town feel, since we run into Nik7 from Shout Out Out Out Out and sound man to the northern lights, John Ruby, who I know from my Edmonton days. We join their table and get a helpful rundown of what not to order off the menu. Beers ensue, and then we hightail it over to La Zona Rosa to try and get in for Yeasayer and Simian Mobile Disco. Already, hours before the show, there's a line forming and we are forced to reassess the situation. We leave the boys, saying hi to birthday boy Jaycie Jace and promise to make it out to their show at Beauty Bar the next night.
Our new destination is Emo's where The Black Keys are slotted to play at midnight. We lose Coral along the way to drinks at The Four Seasons with The Kings of Leon's agent. Business commitments come first in this town. We get to the venue in time to beat any major lineups and meet up with some Toronto folk hanging out in the back. Always good to see Gregory 'The Goose'. He introducing some babes he's been playing with as of late and apparently Lyle Bell is around somewhere too, looking swank in a brown velvet jacket, but I never run into him. Emo's is the type of place that when you walk in you feel the possibilities. There is a definite vibe, you know great shows have been played there and great shows are still to come.
At this point I hear that Curtis Santiago is in town and has manage to rustle up a two bedded hotel room off the I-35 for the night. I call dibs on the extra bed and meet up with him. We hunt down some late night eats and just check out the scene on the streets at 3 am. I'd been feeling good energy all day and having Curty around was the perfect night cap. We walk for a bit, run into some old friends, make some new ones and then decide to call it a night. I'm happy to have good company and a pillow under my head tonight. I don't know if Austin's realized it yet, but someone brought Vancouver to the party and we are ready to kick it…