Polarographer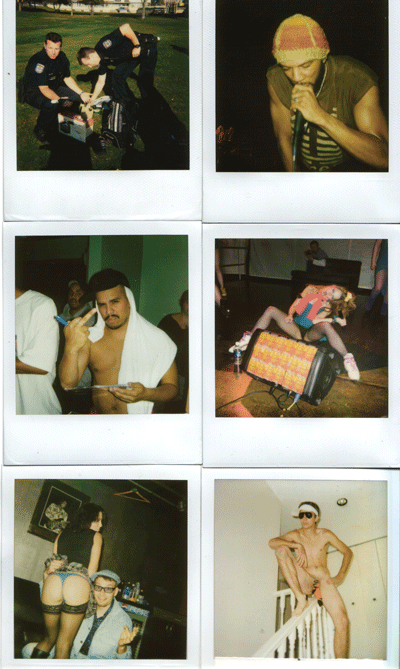 By only
Saturday January 15, 2005
Skinny, White, And Acne Prone
So I'm covering Rhek's article until he gets back from hanging out with small Buddhists.Writing an article is a lot easier than I thought, apparently you go over to someone's house, eat their food, smoke their weed, drink their beer and ask them some questions you record on their tape recorder. How hard can this be?
ONLY: Who are you?
Polarogarpher: I'm the Polarographer, bastard son of Janine, from Pictou County, Nova Scotia
ONLY: When did you start taking Polaroids?
P: After losing my wife to stupidity in '99 I became an alcoholic and started taking pictures at shows and giving them all away. It started at Disco night with Peter Blue, everyone wanting to get their pictures taken because they were dressed up like fuckin' idiots. My first rap show was Common, September 3, 1999.
ONLY: How many Polaroid's have you taken?
B: I've given away at least 5000 photos, about 1000 a year. I give them to the artists and usually I'm trying to get laid so I'll meet a girl and show off the photos I've taken. She might like them but probably won't…but I'll give her a picture anyway. 'Cuz there's always the chance….
ONLY: What's up with white girls anyway?
P: They're hot don't get me wrong, but I'm skinny, I've got acne and, yeah, they're not attracted to skinny, white, acne prone males from Nova Scotia (alcoholics).
ONLY: What's your favorite picture?
P: Immortal Technique. I got there half way through the show, the crowd was intense, I had my Polaroid with me and I was in the US so I didn't want to try anybody 'cuz they'd probably been on Maury and want to kill me. I stood back and waited until the end of the show, until he was selling CD's, I didn't know what to say so I asked him to give me a fuck you shot. I got a Polaroid of Immortal Technique flipping the bird. I've taken a lot of great shots but I always give the artists the best ones because they made them happen.
ONLY: What's your favorite rap show?
P: Best show I remember (vaguely) taking good pictures at was with The Alkaholiks, Livings Legends and Defari. I went there with about 100 pictures and I came home with 12 so I know I took good pictures because everyone that wanted a good picture got one.
ONLY: What's up with "The Wall?"
P: I've got one wall in my house covered in about 1000 photos that I've kept. It's Polaroids covering 5 years of Vancouver hip hop history. It's also got pictures of me and my friends with socks on our penises, trains with no graffiti on them, my cat throwing up, my family, and me with a lot of white chicks that would never kiss me, let alone hold my hand in public but who would take my pictures.
Rapper wise, I've got pictures of Dilated Peoples, The Roots, Josh Martinez, TFOS, Ab Rude, Living Legends, Arsonists, Swollen Members, Moka Only, Chicks, Common, Jeru the Damaja, Aceyalone, Emotinez, Fourth World, Slug, Brother Ali, Vast Aire, Immortal Technique…the list goes on and on.
ONLY: What's next?
P: I've got a manager, thinking about doing a Polaroid show at Misanthropy or something. It could happen but we haven't talked to anyone about it yet. I love taking pictures and people love the pictures so if I'm hip-hop and hip-hop is something to do, I'll still be doing it.
ONLY: Anything you want to pass on to bouncers working the door?
P: See you in the pool buddy, slower swimmers being passed move to the slower lane ok? I will pass you.