Soma re-awakens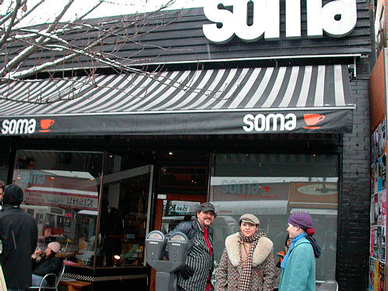 By Darren Atwater
Wednesday May 16, 2007
Our long, municipal nightmare is nearly ended. After losing their Main Street lease earlier this year, Soma Cafe has been quietly rebuilding on 8th Avenue in the former Wink. (Across from the Nice Cafe.)
Cafes like this are important to a neighbourhood. If they can survive, an ecosystem of independent and artist-friendly shops can continue to grow around it.
But Main Street is under pressure to become a new 4th Avenue. A street of high-end, faceless, notionally independent shops. Where is the Soma (or Prado or Lugz for that matter) of 4th? Gone, never to return.
Soma re-opens Monday, May 21. We expect nothing more than good art, spartan space, discreet staff and amazing coffee.
Soma
151 East 8th