Beat Kids: Where's My Nog?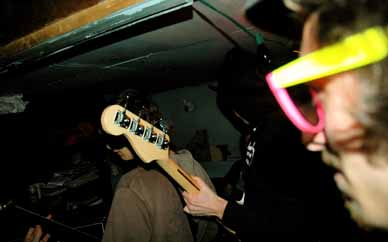 By chloe
Tuesday December 11, 2007
Frosty ground in Vancouver. What is this, the interior?! With the holidays (politically correct) so close you can taste them, I've already started my list for Santa 'cause you know I still believe in him.
CiTR's Shindig wrapped this week with Petroleum By-Products coming in third, The SSRIs second and Fanshaw winning. It's alright though, the band that wins Shindig always breaks up anyways. After the festivities I went to Friendship to see Tony X DJ. It was alright — I vaguely remember dancing. To add to the novelty, Jason (MGH) will be preforming tonight as well. So Friendship is becoming 1/2 Alive Part II, which seems unnecessary.
Speaking of unnecessary, Friday night I was stuck in PoCo for most of the night, missed the good show at Little Mountain Studios and ending up waiting in line for ShoutOutOut! at Richards. There were some girls in line screaming out "Fuck 1/2 Alive, DJs have small dicks!" And why? Well, it was probably the forty-five-minute-line FOR TICKET HOLDERS! The cold, or the apology letter? I decided on neither, and went for some 25 cent peep shows on Granville. But then that just turned into wandering through a sex shop and having my friend try out some lip-gloss that you can put on your nipples. After that detour it was to the closest alcohol establishment, the Morrissey. The music playing there was a nice change to rave-rap. I really like my oldies, and I absolutely LOVE being fondled by the eyes of loving Granville men/bums. I don't recommend trying to get a cab on Granville (or going to that street, ever). I dropped my last stuffed grape leaf while chasing after one that was already taken by some backpacker assholes.
Saturday night there was a great show at the Library (not the Square), but late as always, I ended up at the basement of Bangtown (the new salon where Midtown used to be). I'm glad I missed the DJ/drum/Daft Punk band because now I don't have to bash them, but MGH played a decent dance set. I did like the approach to this "invite only" soiree — you had to get on the list to get in the door, just to pay ten dollars to not be allowed to leave some basement? Genius. Also, when something this illegal says "get out" at 2am, it's hard to not feel used. Think of the money you lost on bar sales! Then Get.Mode laptop DJd some house party on the Drive, but my friend and I left early on because we're "really tired of trying to make the party happen." It probably got busted by the cops. Boo-fucking-hoo.
Friday is crazy this week. Glass Candy are at Richard's, Hallmark, Ladies Night and Petroleum By-Products are at the Unicorn, Organ Trail, Lost Lover's Brigade, A Relative Distance, Grayscales and Fanshaw are at Little Mountain Studios, and Datarock are at the Biltmore. Last time Datarock player here, they said something about a "Nu Rave Revolution" happening, so probably want to skip that. And holy, Saturday is a bit more manageable, but also packed. Japandroids, They Shoot Horses, Mohawk Lodge and Greenbelt Collective are playing the Ukranian Hall, and Bison, Carpenter, and Owl Drugs are playing Pub 340. What to do? I'm gonna take some Advil and hope my hangover goes away.