Larry Cohen: White Man, Black Movies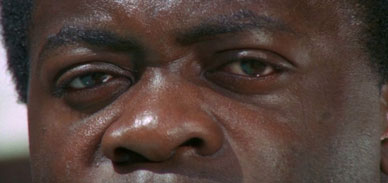 By Adam Thomas
Thursday February 28, 2008
In 1971, Mario Van Peebles blew the roof off the closed Hollywood system with Sweet Sweetback's Baadasssss Song, the first independently produced film made by and for African Americans. About a man on the run after he kills some crooked cops, the film gave birth to a new genre: Blaxploitation. While the argument can be made that Sweet Sweetback wasn't in itself exploitive, as it was made independently by and for the black community, it decidedly served as a cultural model, giving birth to pimped out heroes like Shaft, Superfly, Dolemite and The Mack.
Up to this point, Sidney Poitier had almost single handedly expanded the visibility of black actors in Hollywood, beginning with Blackboard Jungle (1955). About a do good teacher who arrives at an inner city school and faces the reckless youths who control it, Poitier played one of the high school thugs, a role he would invert years later when he starred as a do good teacher in the 1967 film To Sir With Love. The same year he played a suitor to a white girl who brings him home to meet her parents in Guess Who's Coming To Dinner. And while this particular film explored the racial tensions that existed in America in the late '60s, there was a singular problem: Poitier wasn't African American. He was from the Bahamas and occupying the role of the token black actor. He carried with him an educated air that proved acceptable to white America, but held little resonance with inner city Black America who, despite the civil rights movement of the '60s, still faced racism and community poverty. The representation of the African American struggle remained largely illusive on the big screen.
With this in mind, it is unusual that Larry Cohen, a white guy from New York who had spent his early career as a writer and director for television, should blast his way into the world of racially aware cinema. In 1972, Cohen made his writing and directing debut with Bone, an angry and equally funny cross cultural shocker. Independently produced by Jack H. Harris, Bone is as bristling, tough and brilliant today as it was then, as it captured the cultural anxieties and not-so-subtle racist stereotyping still thoroughly common between blacks and whites. Opening with a statement indicting America's wealth and excess, the film stars Yaphet Kotto as Bone, a black criminal on the run who arrives at a wealthy Beverly Hills estate. Briefly posing as a pool cleaner, Bone infiltrates a couple's home and takes the arrogant and privileged couple hostage, forcing them to expose themselves and their faults, insecurities and infidelities. He plays intimidating mind games tempered with threats of violence until the white, wealthy couple reveal their emotional bankruptcy. Here Cohen constructs a tense, scathing and darkly comic film about race, wealth and power inverting the power relation of slave and master.
If Bone was a dark and vicious satire of racism, wealth and cultural ignorance, Cohen's next two films, Black Caesar(1973) and its sequel, Hell Up in Harlem(1974), play out as quintessential and largely successful blaxploitation films. Featuring Fred Williamson as Tommy Gibbs, it's the epic story of a shoe shine kid come Harlem Godfather who must struggle against and take out corrupt cops, rival gangs and greedy allies to hold his position at the top. Both films, while recognizable as blaxploitation for their soundtrack (Black Caesar features a howling James Brown) and definitive funky style, present an underlying motif that explores the violent metamorphosis of Gibbs from gangland Godfather to a actual father. Together the films operate as one story, offering a pimped out and violent narrative about a man who wants it all and kills to get it. But in the end he realizes he is no better for it and is still bound by the rules of the world he hates. His ultimate transformation comes only when, after hanging a crooked white cop by his own necktie and uttering the line "I'll make you famous D'Angelo. You'll be the first whitey ever hung by a nigger", he disappears into the night with his innocent son, never to be seen again. Despite the cop killings and gangland violence, both films chart a course of cultural struggle for power, identity and the search for access to the American Dream.
Regardless of success or recognition, Larry Cohen (who would later become a revered cult filmmaker for low budget horror films like Q, The Winged Serpent, It's Alive and The Stuff) has always managed to maintain his independence, and with these three particular films, also managed to capture and articulate the frustrations of the outsider — of the black man in a white world, reaching beyond the boundaries of traditional social recognition. The strength of his films come from an intelligent understanding and an artful capacity to blend social commentary, satire and cultural uncertainty with the powerful recognition that the unjust past must be shrugged off and exchanged for an uncertain future. His films may have never found mainstream success, but they were maybe never made with that in mind. Instead they are stories where the outcomes are twists on social expectations and failures of the white man's world where the African American hero breaks with convention and then disappears on his own terms, forever.