All The Covers. Tonight!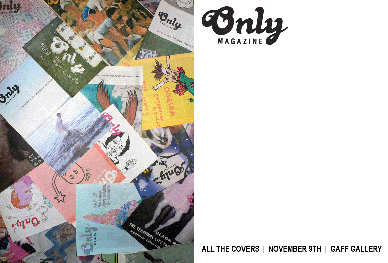 By only
Friday November 9, 2007
Since it's inception in 2004, Only Magazine has offered Vancouver's talented, up and coming artists a unique framework within to create. Magazine cover space is often seen as editorialized advertising space, an opportunity to sell a gimmick, musician or publicity stunt. Alongside the city's illustrators, photographers and designers, Only has managed to offer Vancouverites weekly standalone pieces of art that just so happen to house a magazine. While it may not be a revolutionary idea, it utilizes an otherwise unused forum for creative expression. The cover art of Only stands as a recognition of the innate good that the appearance of art has in public spaces. Like hanging a canvas at a bus stop, these covers brighten the dullest stacks of publications in coffee shops and gutters alike.
…Or at least that's what we told the press. Wow! Can you believe how seriously we take ourselves these days?!? Like, remember when we had the naked guy on the cover? Anyways, let's party! All 50+ covers will be on display tonight at the Gaff Gallery from about 7:30-10pm, plus around 20 of the original works that we've been able to track down. Those originals are the real treat.
At ten sharp, we'll all pour into the Astoria for the afterparty, which is easily the best fun thing to do tonight. Sheepbelly, Adelaide, No Gold and The Petroleum By-Products are all playing, and then somebody will play some good music, but nobody will "DJ". Dreams will come true, relationships will be consummated, babies will be delivered, hearts will be broken, pants will be worn and stars will be born. In other words, get ready for Woodstock '07. See you there.