Dostoyevsky's Dilemma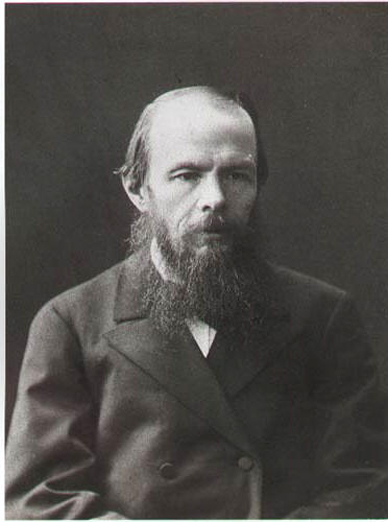 By Alan Hindle
Tuesday November 6, 2007
The candle quivers in the icy draft and the shadows shiver with the grasping chill. Fyodor Dostoevsky regathers the threadbare blanket round his shoulders, knuckles vainly to crush the exhaustion from his sunken eyes, and dips his quill in a jar of ink for the zillionth time.
…Piotyr knew well the significance of the toothbrush and the consequences he, and all his teeth, would face if the a fresh supply of mint flavoured baking powder were not procured before war broke out, and the subsequent consequence of beauteous Alexandra's affections waning in direct proportion to the increase of tartar and plaque and the consequent subsequence of halitosis and unsightly cabbage stuck between his—
Two men burst into the study, one tall and thin, one short and stout, both wearing cheap suits and expensive gold watches. Before Dostoevsky can utter a single objection they set up a PowerPoint display showing a pie chart, a flow chart, a graph chart and a picture of two kittens in a teacup.
"Mr. Dostyosky, this is an honour, allow me to introduce myself and my colleague," says the tall one.
"My name," says the short one, "is Fitzglove, and this is my colleague, Shufitts. I represent a company called Costco, and we love your books, especially the one you wrote about Russia."
"While I am Regional Profit Ombudsman for a much larger company called Wal-Mart," says the tall one, "and we also love your books set in Russia, especially the ones where the action takes place in the north."
"Did my housekeeper let you in?" cries Dostoevsky. "Maria?" he calls into the dark stairwell, but the blackness occupying the remainder of the house is silent and still.
"Maria is dead," shrugs Fitzglove. "Really sorry, but consumerism is a cut throat industry and we really need to speak to you."
"Now, Fyodor – May I call you Fyodor? – The thing is this: The American dollar is down and not likely to get up again in a hurry. We've used up our resources, outsourced the jobs, lobbied to lift the burden of taxes from all but the poor whose jobs we slashed, and now – nobody saw it coming! – the American currency is kaput. Hell, even the Canuck Loonie is doing better."
"Y'see Fyodor," Shufitts breaks in, "we represent the two largest stores in the world and we wanna break into the book selling business big time. Dreams and knowledge set to paper are the only untapped margins left and we wanna get the jump on cracking that opportunity wide open. We've reduced our prices on books and magazines to rock bottom, and if the independent book dealers in, say, Canada, wanna compete, they'll have to match us. In Vancouver alone, last week Book Warehouse, Duthies, Blackberry Books and some other schmuck were forced to meet our prices or look like assholes. Consumers are delighted because they don't stop to think that America has ten times the consumer base and considerably higher profit margin."
"By the time they realise that cheaper books for them means fewer stores that can afford to buy stock to sell, we'll have wiped out everybody. Then the public can swallow what we give 'em."
"Paris Hilton's new line of cookbooks for Chihuahuas," adds Fitzglove proudly. "It's called Widdle Snackie-poos For Cuddly-Wuddlykins. We're gonna market it as WS-POOZ4C-W. More text-friendly. We've done the market research."
"But that's monstrous!" protests Dostoevsky. "Once there were seven thousand different kinds of apples in the world. Now there are less than two dozen because people like you only wanted to sell apples with the longest shelf life."
"Y'know," snaps Fitzglove, "even for a Russian, you talk too much. Now, listen up. We love your books, really we do. But they're too damn long."
"And hard to read," adds Shufitts. "We checked with the public."
"So we're bringing in somebody else to write your stuff. I'd like you to meet Mr. Fyddy Dosko, your replacement."
A young man in a Barbados Barney designer T-shirt wearing a suspiciously unnatural beard strolls in.
"Yo, D!"
Shufitts and Fitzglove help Fyodor Dostoevsky from his stool and guide him gracefully towards the door. Fluthering and foostering to collect his things from the desk, gasping and gawping his shock and anger, the red-faced old man feels himself being swept away like a dust bunny down a garbage chute.
"Look at it this way, Dustyusky," smiles Fitzglove warmly, "you're joining the New Rich, outsourcing your job so you can relax and enjoy a 4-hour week. We'll send you a copy of The Secret so you can wish some money into your RRSP accounts. From now on you just kick back at your dacha in the Caucuses and count the royalties."
"Of course," smiles Shufitts even more warmly, "we'll be needing to hang onto those royalties. Internet piracy is digging into our bottom line and we need every penny for lawyers to stop people feeding their souls without paying us. I'm sure you understand. Thanx."
"Dudes," says Dosko, unhinging the beard from his ears and setting it on the desk. "I need a better chair, a laptop and a proper light if I's gonna write in here, a'ight?"
"Just get started, we'll look after all that," shouts back Shufitts as the two Regional Profits Ombudsmen muscle the Russian father of Existentialism past the eviscerated corpse of his housekeeper, Maria. "We need that book by Tuesday if we're gonna get the jump on Chapters/Indigo/Coles's new version of W&P by Lee Tolsty."
…Petey got it, how his teeth would look shit without some hip new toothpaste that could really bust up plaque and make for kissable gums. Good thing Wal-Mart's selling Family Economy Packs of Crest for $4.99, he thought. With war a dead cert unless the terrorists were sent packing, there was no way he'd bag Alexia­— that hot bit of so-fine, lookin' at her made his eyes sweat! Mm-MM! — if he didn't get him some pearly whites and breath like candy. Slipping into his Lululemon Pants For Men and a Barbados Barney T-shirt, he whipped up some canapés from a recipe in WS-POOZ4C-W (Costco, $6.99 while supplies last) for his dachshund Rommel and…