Ghost House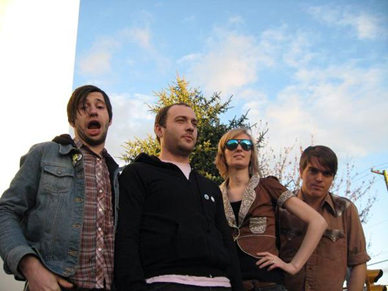 By Sarah Cordingley
Wednesday April 18, 2007
Getting Back into the Keys
There is this picture at the Hive Studios of Jesse Gander (Ghost House, Joel, d.b.s, Black Rice, Operation Makeout) and Andy Dixon (Secret Mommy, d.b.s., Winning) in his bedroom when they were barely in their tweens, practicing with these massive heavy metal posters behind them. I love that picture. I also love being told roughly where the Ghost House practice space is, and letting the music lead me the rest of the two blocks. Ghost House consists of Jesse, Al (the WPP), Katie (Operation Makeout, Safety Show) Steve (the WPP, Fun 100), Shannon and Marissa (the Seams).
ONLY: Is this the first band that you've played piano in. I've always seen you playing bass.
Jesse: Yes, except for d.b.s. when I was very, very young.
ONLY: Why?
J: The songs I was writing at the time weren't conducive of being written on a piano. I didn't play it for ten years. I was more interested in playing electronic instruments. When we first turned Joel and the A minus into the Last of the Neighbours, I played synthesizer originally and moved into the organ. That's what got me back into the keys.
ONLY: You are a prominent figure in recording at the Hive and formally at Rec-Age. Did you want to get the Ghost House record sounding a lot different than past projects you had with other bands?
J: I did in the sense that… I wanted to play piano because I thought it sounded nice. We are ultimately a hard rock band and it's nice for me to play that instead of a guitar, so with recording it, I was looking forward to making it a little different in that regard. It was hard getting it to sound the way I wanted it. I'm still refining what works in the context of the band.
ONLY: Why the re-release of Departures?
J: We sold out of the first one. It's completely re-mixed, re-mastered and has completely re-done artwork. The original pressing of the album was mixed really quick.
Al: Once we toured Edmonton, I called Evan, who owns Reluctant Records, to come out to our show. He liked it, and he wanted to re-release it.
ONLY: What's the West Coast's love affair with Sudbury band, Varge?
A: Ryan Walter Wagner ["WPP"] booked a WPP tour through Sean Maxey [The Doers], who originally knew of Varge, or the brother Houle. It's winter in Sudbury, we show up, we didn't know them too well, but we automatically hit it off. It's known now through touring circles, when you show up, it's good times. Musically, they're pretty mind blowing.
J: I knew them even a little longer. When I was in a 16-year-old punk band, they were in a 16-year-old punk band. We played together in 1995, and I re-met here when they played with the Doers.
Ghost House is playing a whole crop of shows with Varge on the Island in the beginning of May, and then on the 11th at Hoko's with the Doers and Shearing Pinx.