Cam'ron, The Wind Whistles, Vashti Bunyan & Primes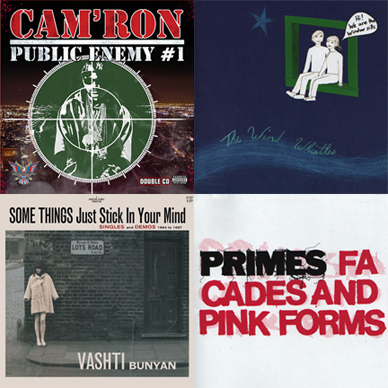 By MegJeph
Friday November 16, 2007
Cam'ron — Public Enemy #1
To be honest, we hadn't really even thought about Cam'ron since his "Hey Ma" video fell out of rotation on Much Music. And it seems like maybe we should have. Some people might think that it's a little played out to sample Journey's "Don't Stop Believing," (especially so soon after a certain Sopranos season finale) but Cam'ron's ability to recount the way "his charm captured" a young woman after he told her he "hate a booger" over one of last year's most overexposed Journey songs is perfect. Cam'ron, your charm has captured us as well. It's also nice to see that someone is keeping Ma$e's memory alive by throwing out "Harlem World" shout-outs. Oh, and best of all, this whole mixtape is free on his MySpace page. That's 38 free tracks. Dunno about you, but we love free stuff.


The Wind Whistles — Window Sills
Jeph: I usually don't like to talk about what music some other music reminds me of. It is a kind of lame way to review, but a couple of these songs — the faster ones — really reminded me of the Joe Strummer theme song to the TV show John From Cincinnati. I miss that show. It wasn't good, but I loved it.
Meg: I guess HBO is just afraid to take a chance on a noir-style drama about magical surfers that doesn't go anywhere. I feel like the people that made this album put a lot of effort into it. They had to live their lives, get inspired to write songs, get somebody to teach them how to make albums, and then they did it: they made an album. I think that's great for these kids. Very endearing.


Vashti Bunyan — Some Things Just Stick in Your Mind
We feel a little bit weird reviewing this album, on account of how it is basically forty years old, but we will anyway. Just because. Sometimes that's just what you've gotta do when you're a famous reviewing couple. It's not so much, even, that the album is forty years old. It is just that all the songs are. It's sort of a "Best Of" album with rarities, except splendid! This lady is so cool that in the '60s she used to hang out with people like Donovan, sing bittersweet folk-pop songs, travel by horse and carriage, and sometimes Mick Jagger and Keith Richards would even let her sing one of their songs. At least that's what it seems like. Then she just stopped putting out albums for decades and had kids and stuff. Can you imagine if you found out that your mom knew Mick Jagger and used to put out albums? Vashti Bunyan is really cool.


Primes — Facades and Pink Forms
Jeph: Almost a decade ago, I remember seeing Tanya Pea from Primes playing in rave chill-out rooms as DJ Isis. I don't really have anything to say about that, it's just something I remember. But I guess it helps to show how this band is almost like a mini-super-group; Tanya Pea has been doing stuff a long time in Vancouver. Then they've got that guy (JJD) from Radio Berlin too. They should really have a word for a super-group that's not really a super-group.
Meg: Yeah, like "almost-super-group." By the way, don't act all like you went to so many more raves than me, 'cos I went to almost every rave you went to.
Jeph: Don't worry. I'm not really trying to brag about my rave days. I was just segueing into my "super-group" schtick. You can have all the credit for being the bigger raver.
Meg: Nice. That means you can have all the credit for being a bigger douchebag. Are you mad at me?