Tsunami Valentine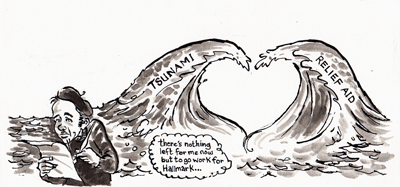 By Alan Hindle
Friday February 4, 2005
Flirting With Disaster is just a little too flighty
At the risk of robbing Spike to pay Milligan, this week's will be bits of an article, or an article of bits. There is too much going on for me to pick just one thing to write about, so instead I'll give a brief preview of a bunch and you can let them all fight it out in your heart for what to fill your brain with. Let's skip my usual blithe ramblings (O I'm sure you'll do fine without it) and get to the stuff.
Tsunami Valentine. Impudence Inc impresario Jen Cressey had a back-up name for this show I liked much more: Flirting With Disaster. Valentine, in collaboration with Suzanne Ward, is her latest stellar cabaret (although technically what she produces are more vaudeville revues) with yet another brilliant line-up, all raising money for UNICEF and the mess in Asia. Featuring (drum roll, please) Little Miss Naughty, Babalicious, Kevin House, Kevin Bergsma, an acoustic set from Young and Sexy, Queer Moon Circus, videos from Narcoleptic Videographer (the rarely seen It's a Boy) and Clancy Dennehy, The HOT Toddy GIRLS (Unh! Yeah!) and all hosted by Graham Clarke.
SketchFest Vancouver. The only sketch comedy festival of its kind in Canada, Lovely lovely Morgan Brayton's latest frenzy includes local troupes Assaulted Fish and Urban Improv, plus Obscene But Not Heard from Calgary, Reid along with Browning from Toronto, Meat from New York and Kasper Hauser out of San Francisco. Come laugh until Morgan has to put you in a wheelbarrow to get you home.
puSh Fest continues festing its push, with The Empty Orchestra from Theatre Replacement at the ScotiaBank Dance Centre. Three things I will tell you, plus a fourth something when I think of it: James Long and Maiko Bae Yamamoto created Theatre Replacement, and these are outstandingly fun, canny people. Veda Hille will be playing live accompaniment every show. Empty Orchestra is the literal English translation of the word 'karaoke'. Fourth thing, fourth thing, hmmm. It's about two victims of shattered romances who huddle in a frozen flat during winter listening to the tinny leakings from the karaoke bar next door.
The Lambda Foundation has been raising dosh for yonks to support scholarships researching gay, lesbo, bi and tranny issues and history. Wilde About Sappho is an evening of readings for just a purpose, with contributions from Billeh Nickerson amongst many others, and hosted by Michael V. Smith (AKA Cookie LaWhore) and the currently recurring lovely lovely Morgan Brayton, plus Bill Richardson hosting the reception.
The Walking Fish Festival have put out the call for domineering megalomaniacs with their own berets, horse-crops and megaphones. In return they will give you some tender aspiring writer's life's work and a gaggle of moonfaced, hand-wringing actors to emotionally destroy as you put them through their thespian paces. Crack that whip! Jump that hoop! No, wait, have to set it on fire first… Now GO! Hyah! Hyah! Good. This time, however, I want you to emote more, project your voice, find your focus, and stop CRYING!
Does this sound like your cup of bourbon? Go to Walking Fish's site for more details, upintheairtheatre.com.
The Domino Heart tells three people's fateful stories, revolving round a helicopter streaking through the sky carrying a chilled human heart due for transplant. With this cast (Tom Pickett, Gwyneth Walsh, Rick Dobran) and that director (Craig Hall who did Snowman last year) this gives the impression of a winning drama fait accompli. At Pacific Theatre as the latest installment of the See Seven Series, produced by Section 8.
Tsunami Valentine at the Wise Hall, Feb 14, 2005 doors 7, show 8, adv. tix at Red Cat Records and Highlife, raising money for UNICEF
SketchFest from Pink Vixen at the Waterfront Theatre Feb 9-12, 2005 info sketchfestvancouver.com, tix at www.ticketstonight.ca
The Empty Orchestra from Theatre Replacements at ScotiaBank Dance Centre Feb 4-12, 2005 604 257 0366
Wilde About Sappho from the Lambda Foundation (first time in Vancouver!) Feb 18, 2005 at the UBC Robson Square, tix at Little Sisters. Catered reception at 6:30, readings at 8.
The Domino Heart from Section 8 Feb 11-26, 2005 at Pacific Theatre, 604 731 5518