Loverboy's Lost Luggage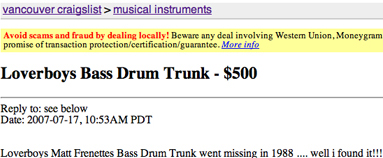 By Cameron Reed
Tuesday July 17, 2007
As far as hot collectibles go, this one is lukewarm at best.
The multi-platinum selling Canadian band Loverboy once lost a travel case for their bass drum during a 1988 tour. A devastating loss. Almost two decades later, a woman from Surrey named Heather finds the missing trunk and actually believes that there are big enough Loverboy fans still out there to justify asking $500 for the band's old luggage.
Let's hope there are no bidders because this could set a scary precedent. Randy Bachman's beard trimmings could easily go for $20 a gram.