Brain Drain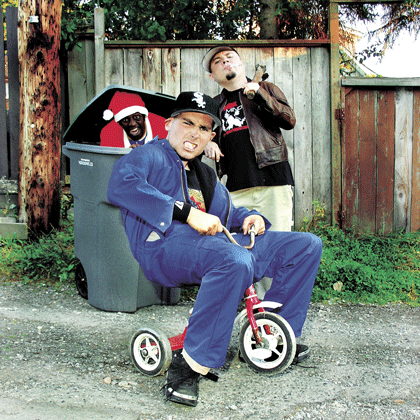 By alex
Sunday October 15, 2006
The Drunken Arseholes Return
Poo poo pee pee ca ca doo doo. Worst intro ever. My brain is sorta completely mushed up as a result of my new weekly, Go Dumb! Saturday night at the Columbia, which are stupid doo doo dumb fun.
You know how on game shows like Family Feud you can choose to pass–what if you could do that in real life? Awesomeness. That's what that'd be. Potato salad brain. I got it and the mayonnaise is getting rancid. Rap news. No Dre production on Games' new album, but I'm feeling the beat and the Junior Reid on his street single "It's Okay (One Blood)." Locally, my people, Moves & Cee!!!!!!!! aka The Drunken Arseholes, are dropping their sophomore LP Rural Pimps this month and it's the most original, honest, and bugged out music coming out of Canada right now. Pure Nova Scotian insanity from true rap characters. Heat. Cop it. Also POSer's Triforce Omega have a new album out too.
Shows. Bone Thugs & Harmony, my favorite R&B group (besides New Edition) are somehow playing here on Friday the 26th at Plush. I didn't really like them when they first came out but now I think their sing-song thug style is amazing. Plus they've got silly names like the Seven Dwarfs. Still, I wonder how many of them are actually gonna make it across the border to perform.
I'm feeling like two bucks right now, which is not even enough to ride the bus. Okay, let's see. Ummm, Lenny Diko and his UIYB crew have an open mic rap night at the Cobalt–of all places–on a Tuesday, but I'm not sure of how often it happens each month. But if you wanna try performing then it's worth investigating.
Spectrum's got a busy month with Zion I, Classified, and The Grouch on the 19th, Madlib, PB Wolf, Percee P, and other Stone Throwers on the 21st, Lyrics Born, Cut Chemist, and Pigeon John on the 24th, Jurassic 5, and Rhymefest on the 29th and 30th, and Lady Sovereign on November 10. Emotionz is throwing the Rent Money 2 freestyle battle on the 21st at the Pic. Get at him to register if you think you can take it. Most importantly, the best personality in rap, Devin the Dude from Houston is playing on Halloween Tuesday at Richard's on Richards. He's honestly the best, so be sure to catch this guaranteed good show.
TOP FIVE THINGS THAT SOUND LIKE SEXY FUN BUT AREN'T
5. Jerk Chicken
4. Tongue In Cheek
3. Child Rearing
2. Brown Baggin' It
1. Missionary
TOP FIVE THINGS TO SAY BEFORE THEY ELECTROCUTE YOU IN THE ELECTRIC CHAIR
5. Is this thing on?
4. Pull over, I gotta pee.
3. This party sucks.
2. Are we there yet?
1. I'm ready to apologise now.
TOP FIVE NOT EXTREME SPORTS
5. Shoplifting
4. Shucking Corn
3. Spreading STDs
2. Feeding Orphans
1. Wearing A Hat
TOP FiVE WEIRD THINGS TO ASK SOMEONE ON THE PHONE
5. Does this shirt make my cock look big?
4. Are you my real dad?
3. How much PCP is too much PCP?
2. Is this really the best place to talk to local single women in my area?
1. Are your drugs good?