VIDEODRONE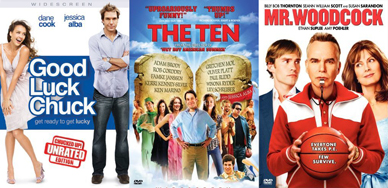 By only
Monday January 14, 2008
NEW
MOVIE
MONDAYS
Good Luck Chuck
This film is incredible for one incredible reason: It was shot in Vancouver, and there is this one awkwardly long montage during which Chuck (Dane Cook, horrible) has really porny, really naked sex with a bunch of girls. The girls all put their tits on display, and in return get about fifteen seconds of screen time each. That's what's known as "worth it". Anyways, the girls are all local… and here are their names: Michelle Andrew, Elizabeth Schnitzker, Eliza Bayne, Tammy Morris, Jessica Olafson, Victoria Bidwell (well, Saskatoon), Zara Taylor, Simone Baily and Viviana Dal Cengio. Chelan Simmons took her shirt off too, but she was in it for something like five minutes, so obviously justified.
The Ten
OK so here it goes. We are giving
The Ten
our highest possible recommendation. The main reason being that nobody at all saw it (it didn't even play in Vancouver or bank a mil in theaters) and it's a goldmine. To anyone who hasn't taken our advice yet and gotten familiar with
The State
, here's another chance. Directed by David Wain (
Wet Hot American Summer, _Stella
) this is the second film ever to feature every single member of
The State
. It's basically ten short sketches each loosely tied to one of the ten commandments, and they get pretty creative. For example "Thou Shalt Not Covet Thy Neighbor's Wife" is set in prison and revolves around a "bitch" getting torn between two "suitors", if you will. One of them is Rob Cordry from
The Daily Show
. Amazing cameos by Winona Ryder and Liev Schrieber surprised the pants off of us and Paul Rudd killed it as usual. So yeah, no matter what you do, see this movie. We can't put it in any plainer language than that.
Mr. Woodcock
Wood. Cock… and Jesus was a carpenter.