My!Gay!Husband! SXSW Day 1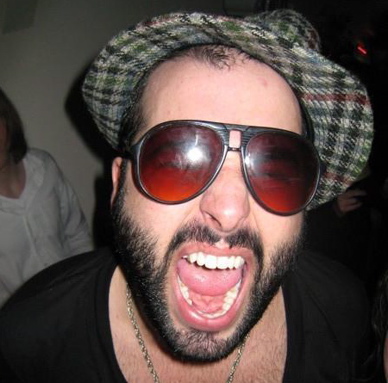 By only
Friday March 16, 2007
A Skid in Texas
Searing heat, BBQ meat everywhere, thousands of bands, friends on every block, bars and bars for miles and miles, free booze all day and night, hotel trashing, blacking out then waking up and blacking out again, hot lil' boys in tight jeans, tons of girls in boots and unlimited overheard conversations with kiss ass idiots name-dropping everyone in the world! Pretty much paradise!
After doing the Bloc Party afterparty in Vancouver and getting seriously 3D in the brain, me and Tony X stayed up and drank Pacific Pilsner 'till 5am. We hit the Amtrak smelling like an East Van house party, bussed to Seattle, flew to Utah (POLYGAMY!) and finally hit Austin at midnight Tuesday.
After gettin' hooked on 100 U.S. television stations (I haven't had cable in four years) 'til 4am Austin time, we woke up and hit the Canadian Blast kickoff party (the Canadian government's official SXSW free boozer and band thing). We started chain drinking free margaritas 'til we cleaned out their tequila supply. Some Canadian bands played on the main stage while we were snobs and DJ'd skidrave all day in the VIP tent.
After the booze ran out, and we met up with the Shout Out Out Outs and Smalltown DJ's, both from beautiful Alberta, we changed our underwear and hit up the two biggest shows in our book: Lily Allen and Devin the Dude. Lily Allen played at an amazing 2100 person outdoor venue that made us hate all venues in Vancouver instantly. We screamed "SPRING BREAK" about 100 times to a bunch of scared indie kids and enjoyed Lily's set. Mostly 'cause she was constantly dissing NME magazine (which sponsored and paid Lily Allen that night).
After that we went one block down the street to check out my personal hero, and second coming of fun, Devin the Dude. With about 400 local rappers before him, we had our 2007 fill of "throwin' our hands in the sky". But before Devin the Dude came on, a magical lil' imp in sunglasses showed up. He had the sleaziest voice and dirtiest smile, you would have thought Eazy E had pulled a fast one with that AIDS thing and really moved to Texas to change his name to Rob Quest, aka Blind Rob. All of us have never been so impressed with a gangster MC coming out of nowhere. I didn't pay attention 90 percent of the songs the 400 MC's were yappin' 'bout, but the shit was as gangsterish as you could hope. I think the lack of credible gangsters in our Canadian nightlife scene (that I sorely miss) is shameful. I am ASHAMED! Of course, Devin the Dude came out all giggles and weed rhymes and as usual, you leave feeling like you seen the new Slick Rick and are happy as shit.
We met up with lil' bad girl NYC promoter and newly turned rapgirl Roxy Cottontail and hit the Hilton for an afterparty. The music was like every indie dance kids Ipod blaring into a 1 bedroom space. Besides Roxy, LA superpromoter and record label owner Frank Chan, MC Spankrock and MC Amanda Blank were surrounded by a bathtub full to the top with Budweiser. We were also surrounded by a couple lame stereotypical cokeheads talking about what they are gonna do in the next 6 months: Talking 'bout this script they are workin' on, talkin' 'bout this music video idea, talking 'bout fuckin' shitshitshit. This is when I blacked out for about four minutes and apparently was tryin' to convince the whole room to jump through the tenth floor double windows. Don't invite me to parties when I have a funny shirt on 'cause I like to show off and get more 3D than the rest.
I went to the bathroom while people were yapping and cleaned out the bathtub of as many beers I could fit in my jacket sleeves without lookin' like I was robbin' the party. Tony X and I hit a cab, did the drunk late night drive-through thing and watched shitty cartoons while shotgunnin' beers and burgers 'till dawn.