Justice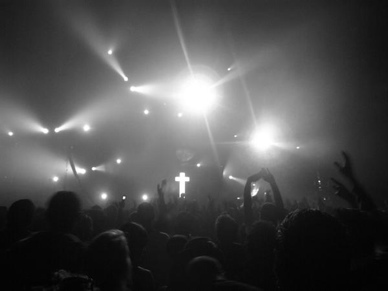 By Chuck Ansbacher
Thursday March 1, 2007
Funner Than God
Justice are on the cusp of becoming the biggest thing in the world, if they aren't already. Everyone who loves to dance has been dancing their faces off to these guys and the rest of their Ed Banger labelmates for a solid year, and there is no end in sight. Even though I know that Justice and pretty much everyone else on Ed Banger are from Paris, I was expecting Xavier (the half of Justice I spoke with) to be reasonably fluent in English. I guess I've just sung along to "We Are Your Friends" so many times that I convinced myself he was an English speaker, and that this interview would be full of really good jokes and all that shit. But it didn't pan out that way. Xavier's English was really spotty. I had to speak slow and he didn't get my jokes, but that's totally cool with me. Justice are killer. Get ready to go crazy when they come through town.
ONLY: How long have you guys been playing together? Did you start DJ-ing or producing first?
Xavier: We started producing music three years ago. That track "We Are Your Friends" was actually the second song we ever made. The first song we did was only one month before, on a really small French compilation. It was a horrible track. And then we did "We Are Your Friends", and then we started DJing about six months later because we'd released this record and we had to represent. And then we DJ-ed, and the first few months were horrible and really hard, but now we like it.
ONLY: You guys have been touring all over the world. Where have you found the best crowds?
X: It's hard to say, because it is always getting better. Before going to Australia I would have said London probably, but now I would say Australia. We're going to play London next month, and I hope London will be the best. And after that we're coming to the USA, and then Vancouver, and I hope Vancouver will be the best.
ONLY: How many artists are there on Ed Banger?
X: There are… (counts to ten) ten!
ONLY: I just think it's incredible that so much unique electronic music has come from that one label and from Paris in what seems like a single year. How does something like that happen?
X: Yeah. The thing is that as we are a part of it, and as we are living in Paris, we pay a lot of attention to it. We like it, but I'm not sure if we would be aware of it if we were living in Vancouver. So it's really hard for us to say if there is something really happening or what, since we're from Paris and we hear a lot about it because we live here. I can't really be objective about it though.
ONLY: But it is! If you go out dancing any night in Vancouver, or in the States or anywhere, you hear you guys, and DJ Mehdi and Busy P and everything. It's world-wide, you know? And it's really cool because a few years ago there wasn't much happening in electronic music. There was trance and house and all that, but you sort of opened up this new window for kids to go dancing and shit, and not having to go to cheesy clubs to do it.
X: Cool, you know? But maybe we had the chance to make this at just the right moment. Maybe we are just lucky to be making it at the right moment, when a new generation of party people are going out in clubs, and these people are listening to our music.
ONLY: Is there any meaning in your music? Is there anything deeper? Or is it just for fun?
X: Definitely for fun. And I think the moment it stops being that, a new generation of musicians and clubbers will come and replace us. There are some artists that consider electronic music intelligent music and revolution music of the future. And us, while we hope this is the music of the future, we've never been in the position to say that you have to think about our music, or that it is intelligent or revolutionary. We are just making music to make people dance and make girls cry. Because for me this is the only reason I listen to music to make me cry or laugh. I think that since we are kids from the 90s and kids from MTV, music for us is for entertainment and nothing else.
ONLY: What music has given you meaning in life?
X: You mean what music do I like right now?
ONLY: Sure.
X: We listen to lots, but mainly to 70s and 80s pop. Robert Palmer, Billy Joel, Michael Jackson. We like the disco and electronic music coming out now, but our background is definitely made of hip-hop, rock, pop music and disco.
ONLY: What do all the crosses mean?
X: Yes. God only knows.
Justice play at Caprice with Busy P, DJ Mehdi and Sebastian on March 25th