Good bastards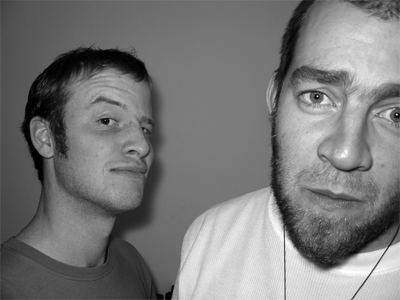 By only
Friday November 5, 2004
Skratch bastid vs. the goods
My boys from Halifax are here–Skratch Bastid (Filipino style DJ/party rocker/producer) and Kunga 219 from The Goods (rapper/loud mouth/Buddhist). Bastid's one of the best DJs in the country–he placed 2nd at this years Canadian DMC Finals and he's the reigning two time Scribble Jam champ. I grew up with Kunga 219 from the Goods–he's got a new album out and he doesn't have a job. To prove that not everyone from Halifax is the same, I asked them both the same questions. And they gave different answers. Here's the proof:
ONLY: Why did you lose the DMC's this year?
Kunga: I did not compete. I only yell at DJs. Coincidentally, yelling is the new dancing.
Bastid: Because it was in Winnipeg and that's where the winner is from. It's mine next year. The winner got served at Scribble Jam later that summer, and complained of the judges being "on my side". Watch the video when it comes out and you'll see he got served.
ONLY: Make up a fake name for a scratch.
K: The twipple fleezer.
B: The turntablist.
ONLY: Why do you have a Tibetan name?
K: Because my Tibetan teacher gave it to me. Kunga means "all joyful". Buddhism will save the universe–it's just that simple.
B: What Tibetan name?
ONLY: What's the stupidest Halloween costume?
K: A white person with white makeup and a garbage bag on.
B: A girl guide.
ONLY: What can people expect from your shows?
K: A hoot-down. I rap a lot, do a dance or two and then get the audience to sing along. Real rap, no hype-man, no self-indulgent bullshit. I hold it down good. I'm Kunga 219 from The Goods–the best rap group in Canada. We already are history, we've been out there. Come see me everywhere 'cause I definitely got it.
B: Dope scratches, dope music and Halifax's loudest rapper. I'll be doing some routines, as well.
ONLY: Why did I get evicted?
K: I'm loud. Moves is loud and the Drunken Arseholes are loud. Lesbians hate us but in real life we're progressive lifestylers so I don't know what to say. I can't call it.
B: People that don't make rap hate rap.
ONLY: You got anything you wanna add?
K: I got 5 new records done and no record deals, so what the eff? Buy these when I press them–Mr Wonderful LP, The NBA EP, and the new new The Goods–The Fifth Wheel. Roosevelt Tharpa for life. Rappers are not real–I am.
B: Be on the lookout for the Skratch Bastid/Pip Skid/John Smith album out in January. Also, I will battle you for two grand if you want to put it up. 1200 Hobos.
Skratch Bastid and The Goods have a show this Friday, the 5th at Shine–it starts at 10:30 so come early.