Beat Kids: Target Practice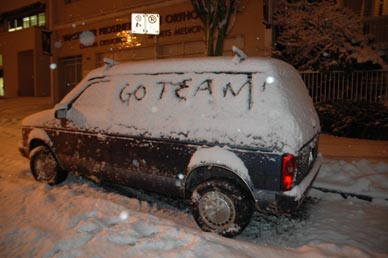 By chloe
Tuesday January 29, 2008
I saw you: Tall, blondy-brown hair, throwing me compliments while I made the worst faces. You gave my friends and I first dibs on a van cab. We locked eyes while you told me I was pretty and closed the door, waving us off. Hastings @ Hawks Jan 27 4/5am. I think I'm in love.
Wednesday night Health and White Williams came to town to play the Media Club; Health were the openers. I think I would have liked them a lot more if it hadn't been for the ridiculous vanity show of hair flipping and bedroom eyes to no audience member in-particular. I probably would have preferred them playing at the Mesa Luna a couple years ago when my bangs were longer than the lead singer's and my boyfriend's jeans were two sizes smaller they should have been. Thanks goodness White Williams rescued the show by playing an amazing set of some of the prettiest music I've heard in a while. We talked about our combined love of Ariel Pink being larger than the Pacific Ocean, and they went to continue the party at some girl's house who responded gleefully to their desperate outcry for a place to stay.
Thursday was busy and I didn't do anything worth talking about. I hate how far away Kits is.
Saturday night was a doozie and a half! The Peanut Gallery was having an art show, or I should say art-party, because the art wasn't really the center of attention. The party was pretty mellow (read: nice), the lights were turned on, the sweat was at an all time low and pretty much anyone who wanted to could/was DJing (I will add that the gallery is now officially that – it has had a face lift and now looks like a sanitary place to hang out).
I had fun throwing bottle caps in the beer booth, but was disappointed in missing what I had wanted to do first, which was see The Trap Doors play the Railway. I ran up the stairs to the door of this show in hopes of being able to see this great new band, but sadly there was a line-up down those stairs and the doorman wouldn't even let me stand by the door and listen :(. I do, however, recommend checking them out as well as Dead Ghosts and The Manic Aatracks on MySpace, or going to their show at the ER that's coming up. Speaking of that lovely place, The Petroleum By Products rocked their set on Friday and Vapid was wonderful as well. I spent most of my time guarding the beer fridge (my excuse to sit in a stairwell and forget about my claustrophobia for a night). The cops came about four times, but that didn't deter anyone and everyone from showing up and dancing/standing/shoving their way to the beer barrel. God it was crowded, but very fun too.
Maybe I'll see you: Tonight night We are Wolves and Terror Bird are playing at Pat's Pub and I'm going for sure with a flower in my hair. Ladies Night, Defektors and The Manic Aatracks are playing Pub 340. Thursday's the opening night of Sex Attack's OMG!WTF! at the Modern… I don't understand, but the next night they will also be playing Tooth and Dagger's RIP party at the Cambrian Hall on Main @ 17 with Petroleum By-Products, Taxes and Victoria! Victoria!. Friday Night is also Only's Music Waste fund raiser show at the Astoria with Basketball, Defektors and i/i. LA Riots are at Shine, too. Saturday The Petroleum By-Products, Adjective and Culte De Cargo take on the Astoria (don't those kids ever get tired!?), and there's the bi-annual We Heart Daft Punk party at the Biltmore. ReadySteadyGo!/Dance or Die! kicks off (as in they got a flyer) at Pub 340 Sunday, with $3 Redbull Vodkas, no cover, and good records. Think the ER, but legal… kinda.