Fish Stampede and Tiger Lattes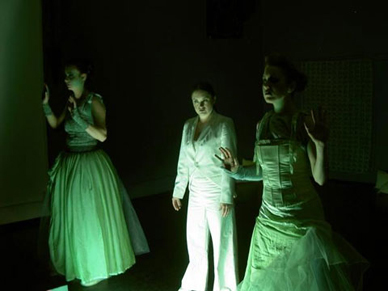 By Alan Hindle
Friday June 8, 2007
The 2007 theatre season gears up from here on through the Fringe. Not counting the Bard on the Beach stuff (Possibly promising: Timons of Athens, which is rarely done and I've never even read, let alone seen, and an Old West cowboy-style Taming of the Shrew. Let's face it, anything done cowboy-style is better than anything done not-cowboy-style. Except westerns, which often work in outer space, too.).
Up in the Air Theatre's annual Walking Fish Festival of one-acts opened yesterday and continues until June 10 at Performance Works on Granville Island. A slew of the best scripts from the dozens they received, some by pro writers (others by first-timers, children, barnyard animals, cowboys) will be staged by actors and directors, similar folks and beasties. The results are often mixed. Some are brilliant, some are crap, but it's still the best place in town to see works by artists trying something for the first time. This year's batch look slightly bent towards the pros over the newbies, but there's nothing wrong with having a couple ringers in there to ensure a fun evening. More details at upintheairtheatre.com.
New theatre group Tigermilk Collective have created a show called Stupid Little Girls, about five women trapped, lost inside themselves with nothing but a single sofa for a landmark. The various smothering layers of often contradictory identities we encase ourselves in need frequent peeling to avoid suffocation. Usually folks don't get up the nerve to peel. Tigermilk, using multimedia and physical theatre techniques, source the show as a reaction to the numerous women who have vanished from the Downtown Eastside and who continue to be at risk still.
Runs until June 16 at Blim, Info at tigermilkcollective.com.