MUSIC WASTE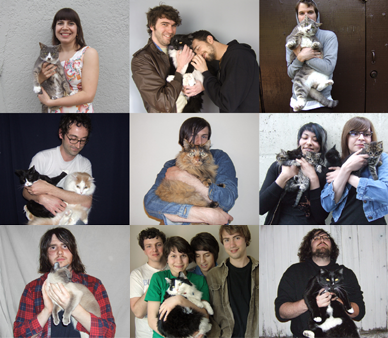 By only
Tuesday June 5, 2007
June 7th – 10th 2007
True story: We booked the Lamplighter months ago for this festival. We're pretty organized like that. Three weeks later, bullshit struck. We received an e-mail that said,
"I can't hold the venue for Music Waste. The bar staff knows about the festival and nobody wants to work it. They've let management know and I've been forced to let those holds go for something 'more beneficial for the bar.'''
Um… What? They "know about" the festival? So they were fine with working that Rob Dayton karaoke jamboree thing, but they're putting their foot down because our festival is so shitty? That's like saying "I don't care if the jizz stays in my hair for a few days. I'll wait until I can wash it out with something better than a half-assed shampoo like Pert Plus."
It's for the best though. Nobody wants to hang out in a shitty, expensive bar and stand awkwardly uphill on that weird ramp in front of the stage.
What's really funny is the fact that they went on to book a show as part of our new "Go Your Own Waste" feature, where the bands book their own shows for the festival. Too bad the chotchy bartenders and racist bouncers don't "know about" that.
But in a strange way, this lame pull-out was kind of a revelation for us. We realised that we can't just hang around the same shitholes watching the same bands and expect it to keep being fun. It's time for new bands in new places. So that's what this year's festival is about: New newness.
There seems to be this wierd, long-standing impression that Vancouver is no fun. Fuck that. The city is just seething with young kids full of creativity and enthusiasm. Sure, it can be pretty grey and hopeless sometimes, but most places we go are packed with people having tons of fun. It could be worse, we could be in Seattle.
Don't get us wrong, we're not under any illusions that this festival is cool or anything. The bands playing Music Waste this year are all terrible and after going to Festival of Guns and New Music West, we felt like total assholes for even putting on another festival. But at least we didn't have to pay a hundred bucks to rent the Piccadilly Buffet.
You've got to love this city to hate it. And we really fucking hate it.
Thursday, June 7
Balmoral (159 East Hastings)
Doors @ 10pm
Aerosol Constellations 10:10-10:40
Huffing is not a good idea. You get all twitchy and stupid and black out and you get a dark ring around your mouth for days like you've been sucking on a charcoal cock. On the plus side you can get your drugs at any hardware store. But they might not sell to you if you've got that look in your eye and that ring around your mouth.
Ian Wyatt 10:50-11:20
I'll show you a Salmon Arm!
Defektors 11:40-12:10
What's more expensive than their drums? Their shoes.
Sex Negatives 12:30-1:00
Have you ever slept with someone that's passive aggressive and overly sarcastic? "Mmmmm. Yeah. Keep doing that. That feels really good."
Pat's Pub (403 East Hastings)
Doors @ 8pm
The SSRIs 8:30-9:00
It's tough battling that flaky skin disorder and still being in a rock band, but luckily it's only on your elbows. We thought you guys were just being weird, but now we understand why you all wear gloves and drink through straws.
The Bloggers 9:20-9:50
Band names that won't mean anything in five years: The Zunes, The Swiffers, The Global Warming Debate, The Islamic Extremists, The Cars, The Anna-Nicoles, America, The American Economy.
Yukon 10:10-10:40
We smoked a joint with these guys and it ended in a real ugly 911 call.
The Yesterdais 11:00-11:30
Their manager gave us a quote for this write-up, but we used it as a napkin. That's right, these pirates have a manager.
Royal Unicorn Cabaret (147 East Pender)
Doors @ 10pm
Kellarissa 10:10-10:40
She seems sweet, but she'll get you drunk on French Canadian beer and spend the contents of your wallet on vintage suitcases without thinking twice. Thanks Kellarissa: Thellarissa.
Bible Belt 10:50-11:20
Like the one we beat our gay son with.
Precious Fathers 11:40-12:10
Two of these guys actually have kids. It must kind of suck for the other two guys who have to feel just that little bit less precious. Here's a hint: have some unprotected sex. It's the hole that shouldn't smell like poo. Or get a singer.
Secret Mommy Quintet 12:30-1:00
Like Secret Santa, but instead of sitting on the lap of an old, beardy guy in a black leather mask, you experience a "rebirthing" in a dark field next to a fog machine.
Plus: "Go Your Own Waste"
The Annex (307 West Cordova)
Eryn Holbrook
Adriane Lake
The Creaking Planks
The Lamplighter (210 Abbott Street)
Contraptioneers
Brother.Brother
Huge Manatease
Portico
Friday, June 8
Balmoral (159 East Hastings)
Doors @ 10pm
N213 10:10-10:40
Keep your husbands at home for this one, ladies. It's like eating your way through a minefield.
Taxes 10:50-11:20
Bring an icepack this year, you persistent fuck.
Talbot Tagora (Seattle) 11:40-12:10
This band is all flamenco riffs and breast-milk poached hake, and after the show they clean up.
Mutators 12:30-1:00
Original band names: Rotators, Whorehaters, Tatertots, Jewtators, Teatottlers, Whiskey Kiss, and Dicktators.
Hoko's Sushi and Karaoke (362 Powell)
Doors @ 8pm
Old Phoebe 8:30-9:00
Don't hate on these chicks too hard for not knowing about the acoustic-hip-hop-folk-band fever that swept Vancouver a couple of years ago. They're from the island, where two girls doing anything but getting pregnant in high school is still a bit of a novelty.
Blackberry Wood 9:20-9:50
We bought this festival from Kris Mitchell who plays in this band. We want our fifty bucks back.
ESL 10:10-10:40
Our friend once taught an ESL class and made a short movie where he taught his class to sing Metallica's Master Of Puppets. It turned into a video love poem to Lars and to the power of Metallica. Seriously.
The Choir Practice 11:10-11:40
Lots of guys would kill to be in a band with 20 girls, but they would have to reconcile that with playing some really wussy music.
Royal Unicorn Cabaret (147 West Pender)
Doors @ 10pm
Japandroids 10:10-10:40
What did Robot Sushi A say to Robot Sushi B? Wasa, B!
Cheerleader Camp 10:50-11:20
A couple months ago they were a band made up of teenage boys named after a bukkake porno movie. Today, they are four teenage boys and one girl in a band named after a bukkake porno movie. Things have been super awkward at practice lately.
White Lung 11:40-12:10
These girls are racists. Not the kind of racists that hate immigrants or anything but the kind of racists that will drive their car half a block to get some 2%.
Bison 12:30-1:00
Actual Bison song titles: "Enter Sandman," "The Unforgiven," "One," "Remember Me From S.T.R.E.E.T.S?"
Plus: "Go Your Own Waste"
Little Mountain Studios (195 East 26th @ Main Street)
Ronnie Olsen
Chris Smith
Jody Glenham
Burnside
Saturday, June 9
Balmoral (159 East Hastings)
Doors @ 10pm
011 (Montreal) 10:10-10:40
Put a Canadian spin on Stereolab and what do you get? Computer language. A date that doesn't exist on which nothing happens. An international dialing code. A really boring sexual position. "Yeah you slut. Let's 011. Stop yawning… Hey pass the potatoes and put on side two of that Air Supply album, lover."
Adjective 10:50-11:20
Um, Okay. How about… Fellatatious. Or cunnalingally. No, wait, that's an adverb, sorry. Ramrectumble. Shit, that's a noun… Or maybe a name from Cats.
Canaries 11:40-12:10
One minute you're all dancing and sweaty, and the next minute they're pecking your eyes out and shitting on your Gore-Tex. Weak.
Primes 12:30-1:00
Fuck Nu-Rave. Primes have dropped E at tent-y, neon outdoor parties more times than you've had your period. This is more like Tru-Rave.
Pub 340 (340 Cambie)
Doors @ 10pm
Suspiria 10:10-10:40
"Suspiria! Fetch my steed and ready my sandals. I've got a young boy's bum to eat."
Mattress (Portland) 10:50-11:20
Remember when you were ten and every night you looked up at the Guess Jeans poster on your ceiling and rubbed one out into a sock like it was going out of style? Well it wasn't.
Twin Crystals 11:40-12:10
If Twin Crystals were a natural disaster, they'd be an avalanche: Pristine and calm. Then all of a sudden without warning, it throws a keyboard at you and spits in your hair.
Modern Creatures 12:30-1:00
What, were the rights to the Siouxie and the Banshees back catalogue on sale at some flea market in PoCo for a toon-dog?
Hoko's Sushi and Karaoke (362 Powell)
Doors @ 8pm
The Public Or The Press 9:45-10:15
These guys are human rights advocates, but don't get them started on the issue of abortion. Let's just say that babies have rights too. They're called Babyrights.
The National Shield 10:35-11:05
If you've ever driven across Northern Canada you know there's a whole lot of nothing going on between the Rockies and Hudson's Bay. Kind of like these guys: impressive, majestic, expansive, but apart from that really nothing but lichen, rocks and Husky truckstops with Tim Ho's booths.
Ghost House 11:25-11:55
When Jesse gets too drunk at practice he gives a whole new meaning to the term "tinkling the ivories."
Sunday, June 10
Hoko's Sushi and Karaoke (362 Powell)
Doors @ 8pm
Tarran the Tailor 8:15-8:45
Huge pecs, massive quads, mountainous trips, rippling dupes and plexiles. Chopstick legs. Broken arches. Cauliflower wrists. Tired franges. Give him a bolt of burlap, though, he'll make you such a suit, nobody sees your flaws. That's music.
L. Abramson 9:05-9:35
Leah refuses to go by her given name anymore. To her fans it's just plain "L," and to her friends it's "Latifah." Leah was her slave name, which her slave owning parents gave her when they bought her off a guy named Slaveseller in rural Idaho. You know what they say about Idaho. "Great potatoes, clean slaves."
Bird Costumes 9:55-10:25
Incidentally, plushornithophilia is the sexual attraction to people wearing bird costumes. Emetophilia is the sexual attraction to vomit.
Dragging an Ox Through Water 10:45-11:15
This guy just recently cut the "And You Will Know Us By The…" from his name.
Caravan 11:30-12:00
If you put one camel behind another, the rear camel will swallow the front one's tail. That's why real caravans are actually arranged in a chorus line, a bunch of sexy camels kickin' it across the desert. The correct word is "caracan-can."
Emergency Room Strathcona
Mega Fun Afterparty
Free for bands and Volunteers, by donation for friends and passholders
Bonus: Monday, June 11
!Earshot Party at the Lamplighter
National Campus and Community Radio Conference Kickoff
Elizabeth
Doers
Yesterdais
Mutators
Music Waste Passes Accepted!