jPod Watch: Episode Thirteen (Series Finale)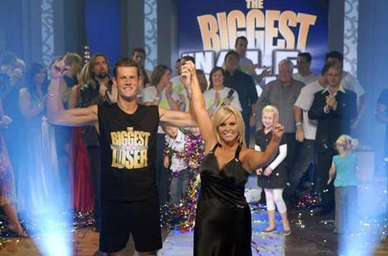 By Cow
Monday April 7, 2008
When I think back to when this all started–with just a 1/3rd listened to, recently downloaded audio-book scare and a mostly unfounded disapprobation for Douglas Coupland's collected works, I never knew I'd learn so much. I've learned a lot about myself, CBC, North Vancouver, and even English. I've learned about seeing things through, about ownership, and about being a man. I'm just so thankful that I've had this opportunity.
The pre-episode round-up explainer was still completely drowned out by the illiterate/inbred now manager of jPod's continued and louder than last episode's flatulence, and it mightily overpowered all audio up until to the credits finished. You could almost barely hear the little theme song, but it was mostly giant period-fart bass, and it even made the cable come in funny. Then, finally she leans back smugly, says "I had hot wings for breakfast", and then FHMA'sSWITW2006 got to kill that worthless character that I barely ever had any use to write about. He lost that bet that the midget's mom loved eating clam now, and so she got to kill him. She decided to push him onto the tracks at the Granville Street Skytrain station. Reluctantly he went–head-first–and his pelvis derailed one of the trains, finally deeming him of some use. After the trains started up again, she went back to the office and was complaining about having a bad itch on her panties. She keels right over and both the midget and the fabulous phallus rode in the ambulance with her. It turned out that she had contracted a mutant yeast infection from the lesbian compound, and they had to shut down the whole wing of the hospital that she was wheeled through.
She was lying there and her snatch was just gigantic. You could see it pulsating under the blankets and the midget was crying so hard. He was telling the mr. tubesteak that mostly he was sad that he, himself, would probably never be a real woman, and that's what he truly longed to be. But then the alarm started beeping and the nurses ran in and they were injecting big needles into the FMHA'sSWITW2006 humongous twat, and she was screaming like a crazy bitch. As they ushered the two chumps out of the room, FMHA'sSWITW2006's vag gave a final heave and exploded with so much force that the windows of the hospital room blew out. It was the best CGI I'd seen on the show all season. The midget was deaf and she was dead. The manwich asked the midget if he wanted to go do shots down at the Loose Moose. The midget was deaf, crying, and wasn't sure if he was old enough to drink, but he followed along anyways. As they were walking to the Loose Moose, they ran into this little, crumpled, Scottish, flamboyantly leather gay in a wheelchair played by Mike Myers! Gay leather wheelchair Mike Myers started poking fun at the midget for crying, and started telling him that he was going to kick his ass right from the chair. The midget was wiping his eyes and asking gay leather wheelchair Mike Myers to leave him alone in that funny voice that deaf people get, but his impeded blubbering was too much for the aging cameo, and he grabbed the midget by his stomach fat, twisted it until he fell over onto the street and then parked his wheel right over his throat. I was at the edge of my seat, and my life coach said he was worried about my blood pressure. As the midget kicked and choked, gay wheelchair cameo Mike Myers looks up at the farmer's sausage and he bends down and they start kissing. I guess they knew each other. Then that upbeat song that's in every show and commercial starts, you know that one… "Staring at the blank page before me/Open up the dirty window…", do you know that one? And the last scene was gay leather wheelchair cameo Mike Myers running, without his wheelchair, side by side with now gay man beef champion shave, who is clearly now gay, and a standard poodle; all together jogging on the seawall. What a fucking finish. I was completely spent. I was crying and I felt like jogging. I couldn't believe it.