Beat Kids: January Slump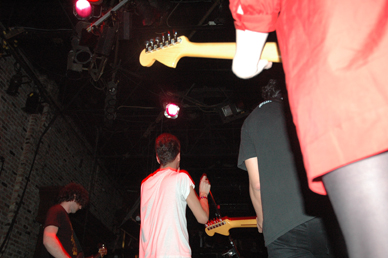 By chloe
Tuesday January 22, 2008
I'm gonna let you guys in on something… big. I have this really weird fascination with Urban Warriors. I really want to infiltrate their scene sometime… rent a big house for a week, go to Granville. You know, something like that.
Friday night The Teenagers graced Richards with their presence at Half Alive. I can't quite remember why I went in the first place – I think it was because I hadn't been out all week (white lie), and like anyone else who attended, I like the song Homecoming. I have to say the band as a whole sucks. Their set sucked, and I bet you anything they suck. I do, however, have to make a point. After seeing them Friday, I think I have more appreciation/respect/general-like for them than before. Watching them on stage, just playing those songs you know they only wrote to fill the 30 minute set after that Homecoming song made them blog famous. The band didn't really give a shit, and boy did the lead-singer just not seem impressed at all. It was the kind of apathy that comes with Internet fame I suppose: one day you make this song, and the next you're playing sold-out packed shows far from home. Even if your heart wasn't really in it or you like your other projects better, would you say no? I sure as hell wouldn't. The point I'm trying to get at here is they know what they are doing and I respect them for doing just that, racking it in. Oh yeah and the lucky girl who just so happened to be called up to sing that blog hit with the band also writes for Pitchfork. Coincidence? I think not.
The next night I missed both the show at the Astoria with Nu Sensae and the Petroleum By-Products show at the Chapel, so I did what everyone else seemed to do that night: went to the Unicorn. It was actually really fun, the DJs made this weird smoke chamber out of the stage which they apparently had their cocks out in… I didn't go in, that smoke machine gunk is pretty dangerous I hear.
This coming week promises to be jam-packed full of way more fun than the last! Tonight as always is Friendship at the Astoria, but Thursday will be ultra exciting with You Say Party!, Taxes and Fake Shark at the Plaza, Pysch-Night at the Anza Club featuring The Green Hour, BCVCO and Brethren, Tittsworth and Ayres at the shit-hole called the Modern that as-of the next week will host Sex Attack's new night OMG!WTF!. The Emergency Room will be having an early art show (8-11) with work by Guthrie Lukic McLellan Penn. Add to that a CD release by World of Science at the Gaff Gallery and Fastwurms at the CAG, and I think that's about it for Thursday. It'll be a loooong night…
Friday night Elizabeth, Owl Drugs and Hawaiian Bibles are playing the Biltmore Cabaret, Bison, Spreadeagle, Grass City and Mongoose are playing the Cobalt, Better Friends Than Lovers, Listening Party and Die Cowboy Die! hit the Astoria and Bend Sinister take on Half Alive.
Saturday night The Trap Doors, The Manipulators and The Pack A.D. are at the Railway and The Makeout start their new night at the Lamplighter. But what I've really been waiting all year for is The Emergency Room's One Year Anniversary Party!! Vapid, Petroleum By-Products and Cheerleader Camp followed by a dance party with Ben and Justin. Don't think about it, just go.