Scratching an Inch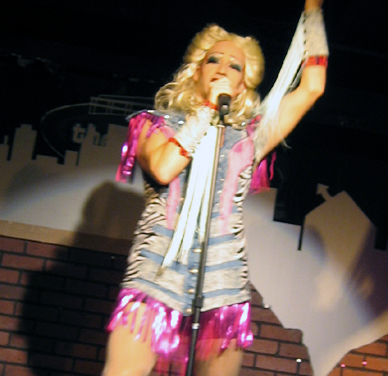 By Alan Hindle
Tuesday May 1, 2007
Born once to his mother behind the Iron Curtain of East Berlin; born twice under the shaky knife of a hack surgeon; born thrice in a trailer park when she discovered rock and roll — Hedwig, with her illegal immigrant band the Angry Inch, has a lot of anger and a lot of love to share with the world. A botched sex-change job in a German alley has left her with a raging nubbins in her crotch, neither male nor female, while a series of unrequiting lovers has left a desolate gap in her heart.
Hedwig and the Angry Inch, possibly the best small-scale rock opera ever, is back. I'm A Little Pickled Theatre Company have mounted Hedwig in a confined space. The words "pickle," "mount" and "confined space" may be arranged however looks best in your head. The music is, as ever, fantastic, and local guys Edmonton Block Heater bash it out pretty solidly. Yitzhak, Hedwig's miserable, razor-averse stage manager, occasional singing partner and possible love-slave, is given more to do in this production. Cathy Salmond as Yitzy exudes as much charisma as Hedwig, keeping up bite for bite in the overall chewing of scenery. Salmond's previous work appears mostly to be at the Giggledam out in Poco, and frankly the girl should come into town more.
The stage at the Media Club is tiny. Too tiny for Hedwig, someone so much larger than life. It restricts her moves to little more than jumping up and down and too-rare expeditions into the audience. Also, Seth Drabinsky, a classically trained singer with a stonking pair of lungs, wants too much to be liked. His Hedwig is lovely, she seems to be having a ball, which weakens the anger of the character. Drabinsky does have her bitchy moments, and that's when we love her best. Hedwig and the Angry Inch is about everything real rock is about: Sexy confusion and hopeful bitterness. All Hedwig needs is an extra eighth of an inch of anger.
Hedwig and the Angry Inch runs at the Media Club (695 Cambie) Tuesday — Thursday until May 12. Doors at 7, show at 7:30. Tickets: 604 231 7535.