Japandroids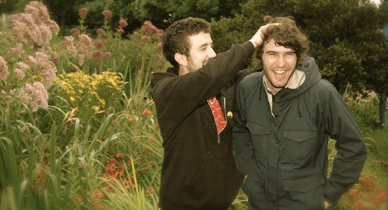 By chloe
Thursday August 9, 2007
Chicks With Dicks
Japandroids have spent most of their summer playing shows all over town and are about to take a well-needed break to plan an east coast tour for Fall. It may have been the Benadryl I chugged for my horrible summer allergies, but these guys were able to pull the wool over my eyes several times during this interview. I'm beginning to wonder if it's a show of genius or if I'm just gullible. Their new EP is aptly titled All Lies.
ONLY: So, what inspires you?
Brian: Chicks
Dave: Chicks with dicks
B: Big ones, cheap drinks, cheap women, hangovers, headaches… Guns and Roses, and not just Guns and Roses, wanting to be Guns and Roses in a time when bands can't really be Guns and Roses anymore.
ONLY: You two are planning a tour eastwards, who's on your wish list for that one?
D: Brian's all time dream is to open for Dandi Wind.
B: I would love to play with Dandelion Wind. I think she's boss hoss.
D: He's in love with her. I'd also like to travel back in time and open for The Sonics. Maybe in Seattle or Tacoma in about 1961. I'm building a time machine right now.
ONLY: Any interesting side-projects, past or present?
B: Well I'm in like six bands, at various points of existence… I took over lead guitar for Sum 41 for a tour after their lead guitarist quit. But that was only for one tour, they didn't want me in the band after that.
ONLY: They decided you were too square?
D: He didn't get along very well with Avril Lavigne.
B: Fucking Yoko Lavigne, that should be her fucking nickname.
ONLY: Have fun looking at her vegan creepers, or does she wear those anymore?
D: She actually had shoes made out of different animal meats when I saw her, like bacon, steak, chicken breast, and chicken skin. All woven together. Raw. So she's gone on a different kind of kick I guess now.
ONLY: So it's safe to say her feet stink?
B: Yeah, she doesn't think her feet stink, but they do if you know what I mean.
Japandroids play Friday, August 10th with The Barcelona Chair and Aerosol Constellations at La Casa Del Artista (150 East 3rd Avenue)