Beat Kids: The Week Of Soup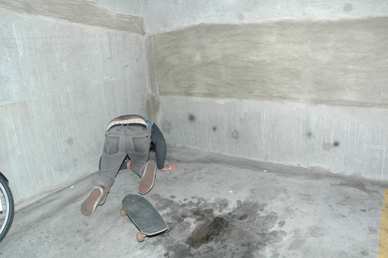 By chloe
Tuesday November 20, 2007
This week was a chilly one (by chilly I mean freeze-your-face-off-curl-up-in-a-ball-and-die cold). Everyone I talked to was making soup non stop, it snowed somewhere in North Van yesterday and spinach dip is my anti-drug.
Wednesday night I headed down for night two of the MIA / Cool Kids after party at Republic. Guess I missed the big one the night before, but I definitely had fun with the four dollar Heinekens. M!G!H! played a good set, and some guy with a photo blog fell in love with me and my friend. You owe me one, photo blog guy.
I Spent Friday drinking gin martinis in Cafe Crepe (if you flirt with the server he'll give you extra olives;) ), then ventured down to see the Sessions play Library Square as part of Festival of Guns. Here are the pressing questions: Who were the two men in matching pink cowboy hats jiggling it on the dance floor all night, and who taught the bartender how to make a martini? Cafe Crepe kicks your ass, Library Square. Just like everything the Nerve does, this "festival" sucked. Thanks for the great night, and the shittiest web page in existence... PS: After all that, John Cougar still rocks. Go next week!
Sex Attack's party on Saturday was awesome. I've already devoted two entire columns talking about these guys, so I'll say you just had to be there… and you can be in two weeks.
The Rita, Sick Buildings, Nu Sensae, Mom Jeans, V.Vecker and Jesse Taylor all played the Emily Carr parking lot (the old ER) on Sunday evening. My friend and I braved some sub-zero temperatures and a lack of mittens to see Jesse hitting a guitar with drum sticks, and V.Veckers combination of performance art and noise. It was all good, but the volume knob is there for a reason; turn it down. Once my mickey of fireball ran out, I couldn't help running to the Colbalt to give up my karaoke virginity. Came close with the Jetsons Theme Song, but as they called my name and pressure got to be too much I called it off in fear of contracting a venereal disease.
Tonight, there's the Bronx Cheer comedy show at the Montmartre Cafe up Main. Sounds fun and free if you're in need of a laugh and feel like missing out on the BEST Shindig yet. Petroleum By-Products are playing. I mean, I'm ultra-sick and I am going (sars mask included). After, head down to Century House for DJ Huggs from Montreal. The night is called Higher Ground Tuesdays, but we'll just call it a wild card. Thursday marks the Color Mag Shoot to Thrill video premiere over at the OnmiMax at Science World. There's also the Paperbird fashion show at 1181 Davie St (10pm) and the Goodnews at Blastramp (Color Mag after party?) This Friday, Half Dead is putting on an all ages dance party. I guess you gotta work like a dealer and get them hooked young, but don't let them miss curfew! The Lindsays are having a big anniversary party on the same night as well, with free champagne and every other DJ in the city. Just be sure to look good for paparazzi. AIDS Wolf, Mutators, Shearing Pinx and Heartfelt do up the ER this Saturday, so definitely don't miss it. Also up the street at the Astoria there's the Better Than Loneliness party. One of those things will probably be better than the other.