Jackie-O Motherfucker, HBO's The Wire, Tenniscoats & Wu-Tang Clan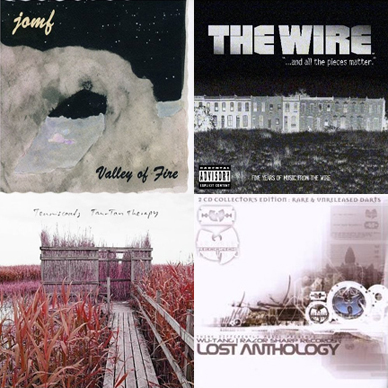 By MegJeph
Friday January 11, 2008
Jackie-O Motherfucker — Valley of Fire
Meg: Listening to this album reminded me of how psyched I was in grade nine when I first got into the Misfits and listened to "Bullet". I thought Glen Danzig telling Jackie Kennedy Onassis to masturbate him was the punkest thing in the world. Now I just feel like if I were to hang out with Glen Danzig right now, we probably wouldn't be very good friends.
Jeph: Oddly enough, I think you and Danzig would be really good friends if you ever met. Seriously. Speaking of this EP, though, I don't think it really sounds like something that should be called "Valley of Fire" and by a band called "Jackie-O Motherfucker". It's so mellow that it should be called "California Sunrise — Self-Titled". That's just my two cents.
Meg: That opinion is not even worth two cents. If me and Glen Danzig did hang out, it would be so annoying. Every two seconds, I'd have to be like: "Eyes up here, buddy." Gross.


Various Artists — The Wire: And All the Pieces Matter – - Five Years of Music from The Wire
We all love The Wire, but is it worth owning a compilation featuring four of the show's theme songs and a bunch of songs that played in the background of some of the most amazing scenes ever televised? Of course it is. One of the coolest things about The Wire is that the show doesn't play any non-diagetic sound (look it up, smarty-pants). Possible downfall? This means that sometimes you might have to put up listening to the kind of music a white cop would listen to, but if that means you get to hear what Omar listens to in his car, it is totally worth it. Indeeeeyeed.


Tenniscoats — Tan Tan Therapy
Jeph: Bands that make music like this must get tired of people always saying that it sounds like movie soundtrack music, but it's true. Unless you're a ketamine addict, when else are you going to listen to this? It sounds awesome, but it's too laid-back and textured to be anything except soundtrack music.
Meg: I guess if I was going to use this as a soundtrack, the movie would probably be about a tiny, English-speaking meerkat that runs away from home to follow a band of gypsies. It would be kind of sad, because one of the gypsies would steal the meerkat's locket which contained the only picture she had left of her family.
Jeph: Sounds about right. You know, this is my second time mentioning ketamine in these reviews we do. I gotta get some new material.
Meg: Word.


Wu-Tang Clan — Lost Anthology
The best thing about this album is that if you are not very knowledgeable about French rap, then this album gives you a chance to hear the best Wu-related song ever recorded without the ODB: "La Saga". Those of you that are old enough to have watched Much Music's French channel (Musique Plus) in the '90s might remember this one, but for the rest of you, this is the ocean-crossing collaboration between French rap heroes IAM and Wu-buddies Dreddy Krueger, Timbo King, and Prodigal Sunn. "Never ate ham/ Never gave a damn." Words to live by.