Infinity Project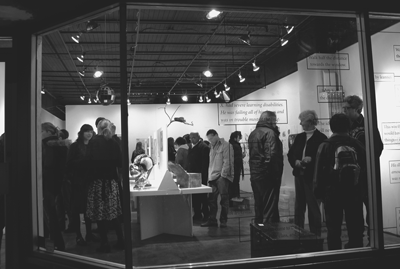 By curtis
Friday February 11, 2005
Forever ends on Saturday
"A hundred is just about right, after that you can't really see anything," explains Jo Cook, the organizer of The Infinity Project, a show consisting of work in a variety of media by one hundred contributing artists, all responding to a call for work sent out by Cook. For a show with one hundred different interpretations of the idea of 'infinity,' one might expect some giant mass of clutter, yet the show is contained and coherent
Cook's original concept for the show stems from a letter by Mileva Maric, written to her ex-husband, Albert Einstein, in which Maric explains to Einstein her theory that a human child could potentially gain the ability to understand the concept of infinity if said child were to explore space at a developing age. In her reading on Maric, Cook found that in addition to conveying this idea to Einstein, Maric also co-wrote with him three important papers on thermodynamics – from which her name was curiously removed after the couple's separation.
Through her list of names and contact info, Cook sent out a call for submissions looking for artists and non-artists alike to respond to the idea of infinity and Maric's quote. This call for work branched out exponentially through word of mouth, family members, other mailing lists and a posting on the Alliance for Arts + Culture website. This snowball effect resulted in an avalanche of interpretations – all of which was new work specifically made for the show – which Cook has built into a very dandy snow castle.
This is the second large-scale call for submissions that Cook has organized, where she collects a huge amount of work from individuals and then acts as editor. At the Open Space gallery in Victoria last year, Cook brought together dozens and dozens of artist-made books for the show, Self-Publish or Perish. Zines, comics and anything else that might fall into the realm of publishing were put on display in a manner similar to The Infinity Project, what the newest show's press release calls "modeled after amateur science fair displays." A refreshing change from typical, isolated plinths, The Infinity Project has presentation tables taking up the central floor space of the gallery. The tables allow more possible interactions between the smaller sculptural works, similar to the minimal gap of space between the works on the wall, initiating a particular reading of the show as a whole entity: the sum of its parts.
Combing through individual works, certain connections and coincidences begin to arise, both in terms of the similar images and in recurring themes. There are a lot of works dealing with circular images, concentric circles and spherical shapes, looking at infinity as something with no end and no beginning and a couple of works reference Zeno's Paradox, the proposal that anything can be divided in half, ad infinitum. The show's 'mass-aesthetic'– its quantitative quality, if you will – maintains that the project belongs to individual contributors, yet it is Cook's subtle influences and choices in editing that contain what could be chaos otherwise. The proverbial catalyst and glue of the project, Cook, in providing the theme of the show, as well as useful tidbits such as the Maric quote, has acted as a temporary pivot point in the increasing community surrounding her. Her list of contacts multiplies each time she organizes theses projects and as more people respond to her calls for submissions, the larger grows this ball o' yarn.
Cook's next project will be this summer at Access gallery. Similar to The Infinity Project, this project will put a positive spin on the current lack of artist-run centre funding by taking place in the scarily expanding space between the funded shows.
The Infinity Project opened at the Helen Pitt artist run centre this past Friday and is up at the gallery until Saturday, February 12th, 2005 (the next 2 days!), don't miss your chance to see the show!