Nurse the radness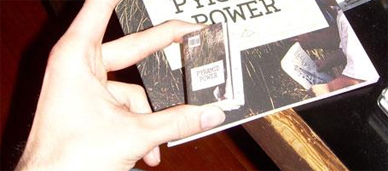 By Mayana Slobodian
Thursday May 17, 2007
Most of the articles that make it into our top ten most viewed have words in their title like naked, nipple, vagina and abortion. A few others are about celebrities. But nestled in there amongst the crowd-pleasers is a little interview with some kids who put out a magazine. It turns out this fish-wrapper is more interesting, content-filled and pleasingly matte-printed than one could imagine our dopey port city producing.
If I just arrived in Vancouver and picked it up, I'd be all, "Yeah, that's what cities are all about — art and culture and radness." But it's not like Vancouver births quality from the SkyTrain love canal. It takes more than a little elbow grease and spit polish to produce a magazine.
Tonight Pyramid Power is having an auction of 8 × 10 works by some of their contributors. Nurse the radness, buy some art.
At the Gaff Gallery (684 East Hastings), 7 – 11 pm.