Killer Deadly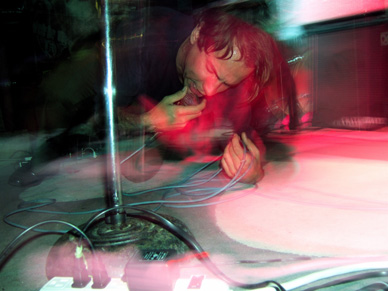 By Sarah Cordingley
Thursday September 13, 2007
THE
FAKEST
JAZZ
YET
The Blank Its came all the way from Seattle to play to a small undancing crowd with an opening band who wouldn't share a joint with them. You definitely don't have to leave Seattle to experience any of those things. But it's easy to mistake a strange drummer for a panhandling junkie when you're standing near the alley behind Pat's Pub.
Vapid's new songs are pretty cute and slightly less… well… vapid than their older ones.
Fake Jazz celebrated its first anniversary at the Cobalt last night. Wonky lounge-punk act Mattress and expert guitar-plinker/tape-gnarler Bird Costumes came all the way from Portland for the festivities. It seemed like they both played an extra Fake Jazz-y set. I especially enjoyed Mattress' Kylie cover. ARC played last. It was intense and Berry of the Doers called it "the fakest jazz yet."
Speaking of Doers, they play at Richard's on Richards tonight with Chad Vangaalen and Fond of Tigers. We knew they'd hit the big time one day. They're also going to play on Saturday at Joel's House with Notes From the Underground, Mattress, Blue and White Van, N213 and Mr Ugly before they go on tour again.
The Pub 340 hosts Sugar Coated Killers and the SSRIs tonight and Boys Club, Master Apes, Fe Fi Fo Fums and the Suspicions tomorrow.
Also on Friday: New York's alt-country (not to be confused with ctrl-alt-country) stars O'Death play Pat's Pub on with Toronto's Rock Plaza Central, a quirky folk-jazz group from Toronto. This band serves as a reminder not to wear suits if you have more than five members and a horn section.
Bison, Taxes and Cobra play at The Balmoral on Saturday.
Bend Sinister, The Clips and No Gold play that night too, at an all ages show at Brad Gough Studios. All of No Gold's equipment and long pants were lost to a shed fire on the evening of the Victory Square Block Party. Now they will be forced to wear shorts all year.
On Tuesday, the 18th, imaginary emo-country duo Two Gallants plays at the Media Club with Blitzen Trapper (it's guitar pop) and Songs for Moms (slam poetry grunge-country) at the Commodore.