Only's guide to cool, old halloweeney films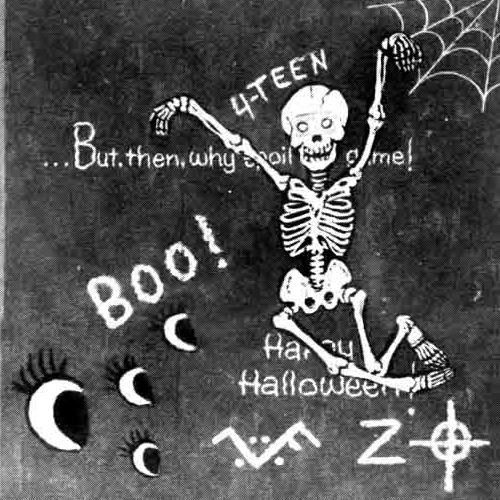 By Adam Thomas
Thursday October 29, 2009
In an effort to help make everybody's favourite non-religious holiday even more exciting, we suggest some of the all-time greatest horror films ever made. Now we know Halloween isn't the night to sit at home and watch movies, but if you're like us, you might want to think about putting some of these on in the background as you get your costume together. If you are hosting a party, these will also provide creepy-cool background visuals to what, if you're at our place, will be the best party of the year.
Haxan: Witchcraft Through the Ages (1922)
Dir. Benjamin Christensen
Part fantasy and part documentary, this is a controversial film that was
envisioned by director Benjamin Christensen as a study in black magic,
witchcraft and demonology from the Middle Ages to the present. Mixing fact and fiction, the film offers freaky re-enactments of medieval life – like gathering sticks in the woods – but then shocks us with scenes of possession and demon rearing as well as with scenes of flagellation and satanic orgies. Rediscovered in the 60s, the 1968 re-release features narration by William S. Burroughs and a swinging, jazzy soundtrack.

Nosferatu: A symphony of Horror (1922)
Dir. F.W. Murnau
A product of the German expressionist era, this film is a milestone in the history of world cinema. Unable to get the rights to Bram Stoker's novel Dracula, Murnau went about and changed some names and events, but the essential story is the same. What is remarkable is actor Max Schreck's rat-like visage. Paired with elongated fingers and trademark expressionist lighting, the film is a true masterpiece. The scenes of Count Orlok's shadow reaching across the room or stopping the heart of a sleeping woman are timeless and haunting. They also make for good pumpkin carving ideas.

Vampyr (1932)
Dir. Carl Dreyer
Danish master Carl Dreyer achieved a revolutionary and
mesmerizing sense of atmosphere in this profoundly unsettling tale,
largely regarded as the first sound horror film. When an occult student
arrives in a small town he is assailed by various supernatural haunts
and local evildoers as Dreyer combines trick photography, multiple exposures and densely layered sound to create one of cinema's great nightmares.

Carnival of Souls (1962)
Dir. Herk Harvey
Relying more on mood than special effects, this low-budget effort has continued to delight those in the mood for something macabre. A strange and haunting little movie, the film centers around a young woman who surprisingly survives a car accident. Or does she? As she moves through the "real" world she is haunted by an apparition that seem to be emanating, even drawing her towards from an other world. The use of stark locations and a spooky organ soundtrack add to the odd and eerie vibe.

Orgy of the Dead (1965)
Dir. Stephen C. Apostolof
"Written" by B movie legend Ed Wood Jr., this is essentially a series of stripteases, where women, er the undead, dance around topless in a badly recreated graveyard while a wholesome couple are held captive and forced to watch the proceedings by The Emperor of the Night. Bad costumes and bad acting abound but the giggles – and jiggles are worth it in what is a pretty tame, pseuso-sexy bit of nightime naughtiness.

Vampyros Lesbos (1971)
Dir. Jess Franco
Every movie nerd's favourite maverick filmmaker Jess Franco pulls out all the glorious stops with this sexy, seductive and psychedelic tale of vampirism and pop-lounge music. A lustful, female vampire who seduces unwary victims with her sexy nightclub act sets her sights on a beautiful blonde. They do it. Then some other sexy, female vampires show up. They do it. Then this guy show up. He dies. Basically all you need to know is that there are plenty of tripped out, swirly visuals, a great – dare we say funky – lounge-pop soundtrack and some seriously vampy vamps all crammed into a sexy 89 minutes.