Killer Deadly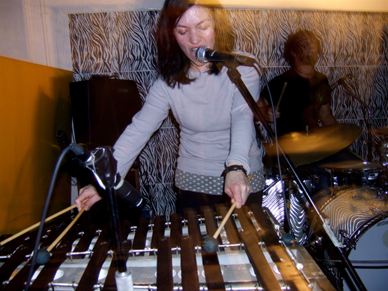 By Sarah Cordingley
Thursday July 26, 2007
BIZARRELY
SWEET
If people were at the Pub 340 last Thursday to see the Big Bad and Edmonton's Frosted Tipz then they were probably horrified by the Mutators. The 'Tipz and the 'Bad's both played exaggerated rock that was abruptly squashed by the 'Tator's hardcore spasm.
The children came out on a Sunday for Hallmark, White Lung, and 99 from Melbourne. Ze Fall Collection decided to grace us with their presence and play a surprise set. A short one and they'd just jump on first so that none of the officially booked bands were inconvenienced, of course. Oh, actually they're going to play second, and maybe they'll play for a while since their dude from Europe is back and everything. And the band that came all the way from Australia and was actually on the bill won't mind playing super late on a Sunday. And could they have some extra lighting on the stage? "Come on, it's for the Fall Collection," the singer remarked as I tried to track down an extra bulb or something. And can we move all this stuff out of the way and open the Emergency Room's garage door in the middle of the show to load our gear out?
And speaking of making bands play really late on school nights, No Gold took the stage well after 1:00 on Monday at the Lamplighter. The opening act was a new band called i/i that apparently gave Godspeed You Black Emperor a run for their money. They, and other new bands, should totally be applying for Shindig right now.
This Thursday means a rad garage line up at Pub 340 with Lamps from LA, Cheap Time from Nashville and No Feeling. Sadly it's NF's last show, so do it. Keep in mind that amaretto and coke is bizarrely cheap at the 340. Also keep in mind that it's bizarrely sweet. Ouch.
The Color Magazine photo issue release party at Blastramp (or as we like to call it, Blas Tramp) is also on Thursday, at the Bourbon.
Fake Shark Real Zombie, Ludvico Treatment and Adjective chance the Balmoral on Friday. Bring two pieces of valid ID. For serious.
Casbah! returns to us, this time at Library Square. The grand re-launchening happens on Friday with Hallmark and Certain Breeds.
Be Bad from Halifax–who are from what I've heard, total insanity–play at the 340 on Saturday with Suspiria and Petroleum Byproducts. The B-prods are also playing at an awesome party on Sunday called the East Infection with Nu Sensae and White Lung. It's just down the back alley where men turn around to take another lap past the prostitutes from the Emergency Room.