Beat Kids: Goddamn the Spleen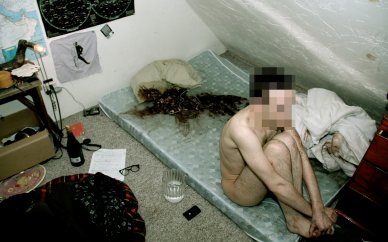 By chloe
Tuesday March 4, 2008
Last night is flashing before my eyes right now and it's really distracting. Point in short: don't start on the sauce at 5pm when you're a light-weight, and for God's sake, don't buy crack from a crack dealer just to get him off your back.
Thursday I made my way down to the Honey Lounge to see Certain Breeds play with Terrorbird. I really can't get over how lovely the music both these bands make is, but unfortunately the large club venue is a little… cold. I spent most of the set with some friends sitting on the washroom sink drinking red wine, laughing occasionally between sips. Some-band-from-out-of-town was up next, and my disinterest can be noted. I fled to check out the Bourbon for Color Mag's fifth anniversary party. While there I picked up the new issue (which I later left at a friends house while smoking hookah) and a drink before heading back to Honey. Got there just in time for my beloved Terrorbird, who somehow manage to make me fall more in love with them every time, even though all their songs kind of sound the same.
Friday night I invited a gaggle of girls over for Bombay and Gucci shoes before heading over to that space near the ER for the Crayon party. This was the second party put on by the crew known as Ruffles, which consists of AndrewAndrewAndrew and some other art type people. Their first party was a total bust (or so I heard), so this 'dress in only one colour' party was going to be an improvement no matter what happened. When I arrived, that-girl-who-dresses-really-well was at the door with a look of pure bitch plastered to her 'sweet' little face (isn't it unfortunate when that happens?); I wasn't surprised when quite a few of the guests at this party seemed to follow suit. I'm sure I just arrived before all the happy drugs/happy people did, but at least the music and decorations were pretty snazz. I also really enjoyed the two friends-of-the-hosts sweating away in Crayon costumes.
Somehow my friend ended up spraining her ankle, so we used that as an excuse to jump a cab to my house and change out of the ridic outfits we dawned and tensor her wound in hopes of getting to the ER for Ice Cream… but we missed it. Instead we stuck around for Twin Crystals with a violently ill Jesse on vocals and a bit of the dance party. But back to Ice Cream. This was their second show (besides Fake Jazz) and pretty much everything I heard about them involved the words 'jaw-droppingly awesome' and the phrase 'Sarah can drum AND sing?' Note to self: next time don't let your friends fall over.
Thursday evening, OMG! WTF? at the Modern have decided that New Wave/No Wave is the new cool thing to do… I don't know how this one's going to work out. Friday afternoon Emily Carr is hosting a clothing swap in the South Building's Atrium Gallery. After you get your new duds head out to Little Mountain to see new work by Erik Lyon, then hit the Media Club for Secret Mommy, Basketball and No Gold. Saturday night hit the Antisocial ramp to scope out the cute sk8 boys at the 3 is The Magic Number a skate competition, and after that go to the Astoria for the July Forth Toliet web launch with Shearing Pinx and ICE CREAM!! Have fun biking in the warm spring air to all this business!